Cumpleaños de la Virgen de Guadalupe
Many people are getting into the holiday spirit in preparation to celebrate Christmas.  However, to many other cultures, Christmas is not the traditional celebration.
Each year, a Mexican tradition commonly known as "El Cumpleaños de la Virgen de Guadalupe" or "The birthday of the Virgin of Guadalupe" is celebrated on Dec. 12.  This worldwide tradition, especially important in Latin American communities, unites Catholics to celebrate the birth of The Virgin of Guadalupe.
The Virgin of Guadalupe is a saint of Mexico, however, she is better known as "La Reina de Mexico," or the queen of Mexico. The story told is that on Dec. 9, 1531, a young man named Juan Diego was returning to his village when he saw the image of a young woman surrounded by light. She told Juan Diego that a church would be made in her honor on the top of Tepeyac Hill. Juan Diego rushed to tell the Spanish Archbishop, Juan de Zumárraga, who did not believe Juan Diego. The Archbishop made Juan Diego go back to Tepeyac and ask the Virgin for a miracle to prove that she was real. The Virgin instructed Juan Diego to place Castilian roses on top of the hill, and then she helped arrange the flowers into Juan Diego's tilmátli (a pouch similar to a burlap sack). Then, on the Dec. 12, Juan Diego opened his tilmátli in front of the archbishop, revealing that the image of the Virgin of Guadalupe had been imprinted on the tilmátli.
This miracle has evolved into a traditional celebration.  Those who celebrate "El Cumpleaños de la Virgen de Guadalupe" attend a party to enjoy a feast of traditional Mexican dishes: tamales, pozole, and pan dulce.  During the feast dancers preform in honor of The Virgin of Guadalupe. This celebration allows them to come together and give thank for their blessings and thanks for The Virgin of Guadalupe.
About the Contributor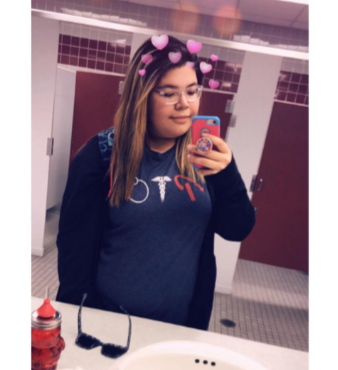 Jacky Lopez, Senior Staff Writer
Jacky Lopez is a Senior Staff Writer for The AHS Cougar Call . On April 17, 2017 at the OSM competition, Lopez  placed First for her Division III-Multimedia...