Ada High band adapts to COVID-19 changes
As we all know, many changes to the way we operate daily have been made over these past few months, including school and its extracurriculars. Ada High's Cougar Band especially has had to find ways to adjust to keep members safe and follow guidelines. The Cougar band's head director Richard Howard has been making the best of the situation and trying to keep his students safe and healthy.
"There's just a lot of changes," Howard said. "We're used to being all in a room together occasionally."
Instead of marching uniforms, the band will be wearing grey band polos with black shorts or jeans. As they will not be participating in any marching competitions this year, the band will have a slightly shorter halftime show and there will be several different shows throughout the season.
The band started preparing for this year in August with band camp. They have been working on pep tunes for the stands of the football games and the tunes that they are saving for the football field. They've also been fine-tuning their marching skills. The band's pep tunes consist of classics that have been played for years such as "The Hey Song", "Light Up", "Go Big C!", "Iron Man" and the beloved school fight song, "Betty Coed." There are many more pep tunes too, including some newer songs that the band has never played before. For the first home game the band played "Sucker" by Jonas Brothers, "Immigrant Song" by Led Zeppelin and "Betty Coed."
"We'll play more pop music than maybe in the past, and we will be marching some," Howard said. "Next semester we'll just see what the situation is." 
Mikkiya Sloan, Ada High sophomore and Cougar band drum major, is in her first year with the band. Previously, she marched at Mustang High School.
"Being drum major is more than keeping the band in time; it's setting an example, leading your peers, and being the connection between the students and the band directors," Sloan said. "This role is a lot more than what it's made out to be, but I wouldn't trade it for anything." 
AK Huckeby
In addition to preparing for their own performance, the band is also a big part of establishing the energy of the crowd. Some band members like senior Brailey Bush have found this task more difficult this year.
"I think keeping like everybody's spirits up – it's super hard," Bush said. "We're supposed to be super hype and like super uppity, but it's super hard to be super excited when there are all these things put in place where we can't do the things that we want to do."
Howard hopes that with everything going on that in all parts of our lives everyone can learn how to be flexible and do what's best for the most people.
"I want us to get better playing our horns and I want us to get better at marching, especially our new ninth graders who have never marched," Howard said.
Leave a Comment
About the Contributor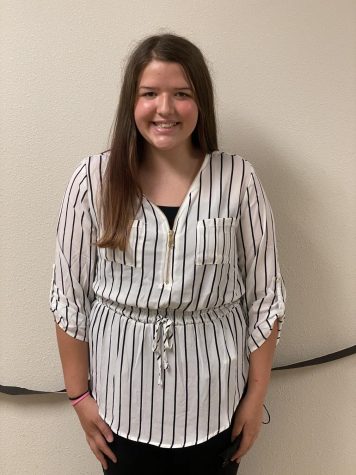 Helen Vasquez, Staff Writer
Helen Vasquez is a second year staff member for the AHS Cougar Call. She is a junior and looks forward to writing about school news and current events.
Vasquez...