Beauty And The Beast Last Minute Information!
Ada High Performing Arts will be presenting the Walt Disney Hit, Beauty And The Beast.
Show Dates for Performances Are:
December 1st Through Third at 7 PM
December 4th at 2 PM
And a performance for their fellow teachers and high school students on Wednesday, November 30 at 6 PM
The Cast~
Belle~ Emily Ingram
Beast~ Noah Hinson
Prince~ Elliot Riden
Gaston~ Carl McCortney
Lumiere~ Tyler Cantrell
Cogsworth~ Jonathan Grein
Mrs. Potts~ Ava Bolin
Lefou~ Luke Underwood and Boomer Hoover
Maurice~ John Kelso
Chip~ Maeli Manwell
Babette~ Mikai LaFleur
Madame De La Grande Bouche~ Annlee Baltimore
Monsieur D'Arque~ Manny Gallegos
Les Filles De La Ville~ Madison Hoover, Violet Heilaman, Paige Maloy, and Daphne Draper
Enchantress~ Zoey Brown
Narrator~ Chayse Howard
Dance Core~ Sadie Bennett, Zoey Brown, Teron Casey, Daphne Draper, Emma Fulton, Manny Gallegos, Violet Heilaman, Madison Hoover, Emily Kemp, Paige Maloy, Ava Patterson, Kennedi Peters, Elliot Riden, Karla Rosales, Marlee Rowe, Peri Thomas, Ava Thompson, Addie McIntosh, Alyssa Saint, Channing Ballard, Jacy Bohannon, and Ella Key
Village Core~ Taj Bronnenberg, Sarah Estis, Patrick Harrison, Chayse Howard, Parker Johnson, Zoe Logan, Angie Long, Cody Marshall, Camron Owens, Reagan Padol, Annabelle Peters, Marium Riaz, Van Risner, Kellen Stewart, Josiah Whitebird, Davion Wilson, and Landyn Young
Villager/Castle Staff~ Miajha Black, Ali Byers, Kat Campbell, Kylee Carter, Kaya Edmonson, Leila Hamrick, Tanaya Heath, Amarre Mance, Sophie Mater, Gabrielle Nucosee, Jayne Palmer, Triston Poe, Kiki Wooly, Matthew Anderson, Nina Benton, Pablo Benton, Dillon Maxwell, and Kylee Witt
Leave a Comment
About the Contributor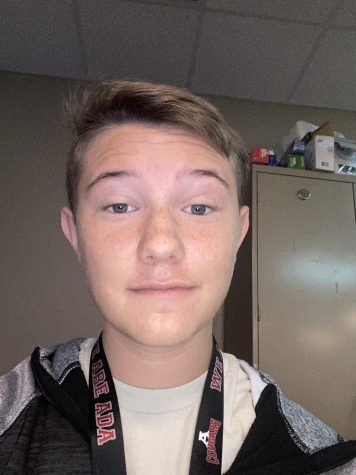 Luke Underwood, Staff Writer
Luke Underwood is a first year staff writer for The Cougar Call. He is currently a junior at Ada High School. In his free time, he likes to involve himself...