Out loud and poetry proud
Poetry Out Loud competition
On Jan. 29, 2016, 17 Ada High School students participated in the 7th Annual Poetry Out Loud contest at Ada High. Contestants competed for the chance to advance to the regional competition in Tulsa on Feb. 20, 2016.
The regional winners will go to state, then the state winner will go on to the national competition in Washington D.C. Thousands of dollars in prize money will be awarded to national winners.
AHS students recited poems in their English classes during November.  Class winners were chosen to recite their poems during the school wide assembly.
The National Endowment for the Arts and the Poetry Foundation joined to create Poetry Out Loud, which is a program that encourages the nation's youth to learn about great poetry through memorization and recitation.
The judges deciding on the winner were:
Mrs. Jennifer Greenstreet

Dr. Bob Greenstreet

Dr. Josh Grasso.
Mrs. Greenstreet received her bachelor's degree from the University of California and a Masters in Library and Information Studies from the University of Oklahoma. Retiring from the position of Director of the Ada Public Library two years ago after twenty-eight years of being so. She is also a board member of both the Ad Sunrise Rotary Club and Pontotoc County Literacy Coalition.
Dr. Greenstreet is a retired professor of Communication Studies at East Central University. He still teaches an online course each semester as part of the Reach Higher Oklahoma Program. In his career he received numerous recognition's including ECU's Teaching Excellence Award. Dr. Greenstreet is a past president the Ada Sunrise Rotary Club and will serve as Rotary International District 5770 as Governor in 2016 through 2017.
Dr. Grosso is an associate professor of English and Languages at East Central University. He has a Ph. D from Miami University and a Masters from the University of Tulsa for both 18th and 19th century British Literature. Grosso has published three books of fiction and several articles on literature and teaching.
The AHS Poetry Out Loud contestants were:
Jeremy Bowerman

"Beautiful Wreckage"

W.D. Ehrhart

Abbie Gandy   

"Across the Bay"

Donald Davie

Darren Hawkins   

"Abraham Lincoln Walks at Midnight"

Vachel Lindsay

Jaden Mitchell   

"The American Soldier"

Phillip Freneau

Hannah Scroggins   

"Dear Reader"

Rita Mae Reese

Juan Oseguera   

"Acteon"

A.E. Stallings

Autumn Rodgers   

"The Ocean"

Nathaniel Hawthorne

Cole Linnhuber   

"Ode"

Arthur O'Shaugnessy

Jordan Marshall   

"Caged Bird"

Maya Angelou

Becky Robnett   

"Obligation to Be Happy"

Linda Pastan

Ben Muse   

"All This and More"

Mary Karr

Kate Pottebaum  

 "One Art"

Elizabeth Bishop

Teondre' Harrison "Beautiful Wreckage" W.D. Ehrhart

Emily Rhyne   

"Dear Reader"

Rita Mae Reese

Brody MacDonald   

"Romance"

Claude McKay

Teresa White   

"Abandoned Farmhouse"

Ted Kooser

Chris Allen   

"Be Music Night"

Kenneth Patchen
The judges tallied up the points for the first through third place winners, they were:
Juan Oseguera

Kate Pottebaum

Teresa White
For the third year in a row, Juan Oseguera won the School Wide competition and will proceed to the regional competition, along with second place winner, Kate Pottebaum.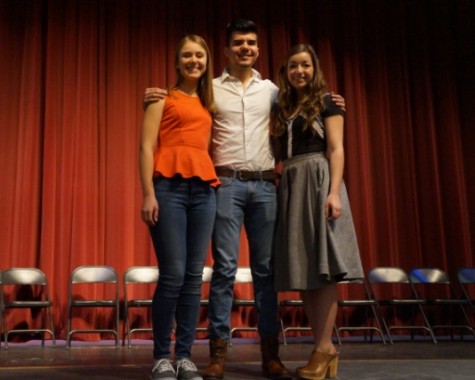 View Comments(1)
About the Contributors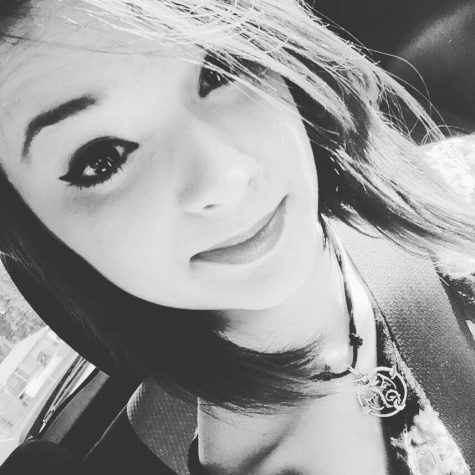 Becky Robnett, Senior Editor, Reporter, Columnist
Becky Robnett is a Senior Editor, Reporter, and Columnist for The Cougar Call at Ada High School. She also participates in Ada High's Band, is in her third...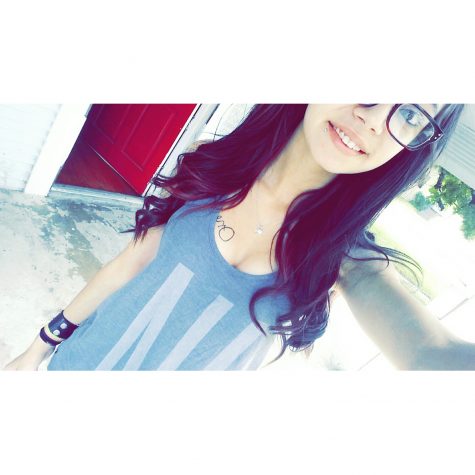 Tiyanna Melendez, Senior Editor
Tiyanna Melendez is a Senior Editor and reporter for The Cougar Call. In 2016 she achieved her goal of winning a first place award in state competitions....