Ada High's 2020 Prom
"A Night in Athens"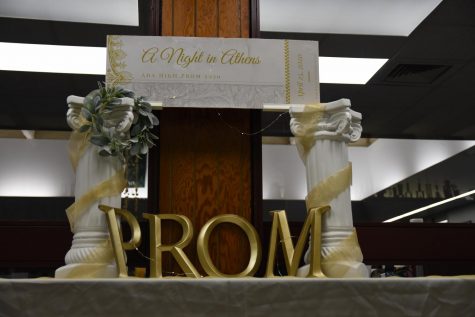 Gold vines cloaked by shadows will descend down the walls, weave through dancing feet, and spring up at tables. When there, grapes as golden as the sun will rendezvous with the vines, gradually intertwining perfectly to create masterpieces. Marble and greenery will subtly loom over the venue – their significant presence felt more than known. These elements will combine together to form a simplistic-yet-elegant background for the vivid night: an experience fit for a god.
The arrival of 2020 has welcomed the world into a new decade. Ada High is celebrating this during prom by visiting the past to a place of wonder, beauty and mystique.
This place of grandeur is Athens, Greece. "We [the prom planners] chose the Greek theme as we thought it was cute, and it ties back into RUSH Week," said Genesis Deloge, a junior planning prom on the Prom Committee.
RUSH Week, Ada High's week of philanthropy, happened last month. The week of raising money for the Falls family had a Greek theme, so prom's theme connects RUSH Week and prom – two significant and impactful experiences for high school students.
As an Ada High tradition, "the juniors plan the prom," said the supervisor of prom, Toni Jones. "It is a leadership role: the students plan the prom while I do the adult things."
Their goal: to create an unforgettable experience for the seniors and juniors.
"Prom is towards the end of our high school timeline and is just there for memories – something to recall in 20 years or so," Christine Nguyen, a junior on the Prom Committee, said. She reasons that everyone should go as it is the "one night where we all come together, mingle around, and have fun."
Like the decade, prom's venue is changing: instead of being in Ada High's Activity Center, it will be held at the Oak Hills Golf and Country Club. The Country Club provides a more spacious and magnificent location for one of high school's most highly-anticipated nights.
Promenade pictures start at 7 p.m. while the formal festivities begin at 8 p.m.
Tickets start at $20 until March 12, where they will be $25 until Prom. They can be purchased in the Ada High library or on Facebook.
Leave a Comment
About the Contributor
Luken Sloan, Reporter
Luken Sloan, a junior, is a first-year staff member of the Cougar Call. Sloan is undecided about his career, but is open to many various paths.

Sloan...