College of the month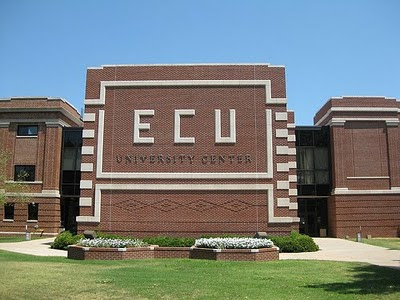 This month's college of the month for Ada High School is East Central University or known locally as ECU. ECU is Ada's local four-year university and is a well known one at that. People come from all across the state, out of state and even internationally to receive an education at ECU.
Ada is a small city for holding such a college. The city of Ada holds a population of about 17,000 people, while ECU usually enrolls about 5,000 students.
"East Central appealed to me because I preferred the lower student to teacher ratio of ECU over the some of the larger universities," said Jamie Weston, ECU alumnus, class of 2004 and 2008.
ECU, located at 1100 East 14th Street Ada, OK, is home to the Tigers, and they cover most of the popular sports, have over 50 different clubs and student organizations, with 70 degrees to choose from, covering  three colleges and two schools on campus.
ECU sports range from all the typical sports: football, baseball, softball, soccer, tennis, volleyball and more. They also cover cross country and track and field.
ECU's  50 and more clubs and student organizations are available to ECU students interested in a common interest, though qualifications may be up to those in charge of the clubs or organizations. Organizations are closely tied to the department to which they are related on campus. Just a few clubs and organizations are: Math club, Cartography Society, Sigma Pi Sigma, and shotgun club.
On ECU's campus there are three colleges and two schools offering 70 different degree programs.
College of Education and Psychology
College of Liberal Arts and Social Studies
College of Health and Science
School of Business
School of Graduate Studies
ECU is internationally known for its cartography program. It is also recognized as home to one of the 60 Environmental Health Science and Protection Accreditation Councils across the country.
Admission into the college relies on several factors.  One can contact ECU's administration office to ask questions, arrange personal tours or enroll for a semester. To enroll, one must provide their high school GPA, class rank and ACT score.
ECU's acceptance rate is 95%. Acceptance probability can be estimated based on student ACT scores and/or GPAs.
Estimated Acceptance Rate Based on ACT Scores:
23 or greater: 97 percent or greater chance of acceptance
20-23: 95-97 percent chance of acceptance
18-20: 93-95 percent chance of acceptance
16- 19: 89- 93 percent chance of acceptance
16 or less: 89 percent or lower chance of acceptance
Estimated Acceptance Rate Based on GPA:
3.75+: Good chance of acceptance
3.50-3.75: Average chance of acceptance
3.25-3.50: Average chance of acceptance
3.00-3.25: Average chance of acceptance
2.75-3.00: Reaching chance of acceptance
2.50-2.75: Reaching chance of acceptance
2.00-2.50: Low chance of acceptance
ECU is an affordable option for many Oklahoma residents opting for the lower costs of in-state tuition.  However, ECU has a relatively low out-of-state tuition cost compared to some other larger universities.
In-state tuition overall is: $4,236 for a first semester.  Out-of-state tuition overall is: $11,957.  The difference is just under $800o dollars for a semester of classes.
For more information about ECU, contact the admissions office at 580-559-5628
View Comments (1)
About the Contributor
Chris Henry, Senior Reporter
Chris Henry is Senior Writer and Reporter for The Cougar Call at Ada High School. He's new to Journalism and having to to adapt to the ways of reporting...