My Top 10 Horror Movies Throughout History
There are a lot of scary/horror films throughout film history and they have all made their own mark on those who have seen them. I'm personally not a huge horror film fanatic but I think that they have interesting story lines and plot ideas. Some of the horror films throughout history are psychological horror films and less visually horrifying, and vice versa, but they are still horror films nevertheless. If you are not a huge fan of horror films like I am, just hang in there, but if you like horror films then you have come to the right article. These are my top 10 horror films that have reached some amazing plot points and visuals that everyone should know. And warning ahead of time, there are some spoilers to these movies so before we start, *spoiler alert*.
Psycho (1960), was a movie made beautifully by Alfred Hitchcock. Alfred Hitchcock would make cameos in most of his movies, just like Stan Lee would make his in all of his Marvel movies. According to IMDb, this films budget was estimated to be $806,947, and had a Cumulative Worldwide Gross was $50,000,000 as of January of 2004. The Phoenix secretary, played by Vera Miles, takes 40,000 from her employer's client, goes far away, and checks into a remote hotel ran by a man, played by Anthony Perkins. This film is best known for its black and white shower scene where the secretary is in the shower and the man opens the curtain and stabs her to death, while you slowly see blood run down the shower drain. This movies' shower scene still scares some people because it is one the most vulnerable places that you can be attacked, or because of some hotels being too shady at times. This movie is very iconic when it comes to the horror genre of films.
A Quiet Place (2018), was directed by John Krasinski, one of my favorite actors by far. You might know John from the widely popular TV series, The Office, as his character Jim Halpert. You might also know the other star of the movie, Emily Blunt, because of her upcoming movie Mary Poppins Returns that releases on December 19th of this year. The movie takes place where in a post apocalyptic world, a family is forced to live in silence while they hide from monstrous creatures with highly-sensitive hearing abilities. This movie is one the most intense films that actually grabs the crowds attention which makes them feel very silent and scared when they leave the cinema. I love this movie because the idea of a horror movie that isn't based on a run and chase concept but instead, a silent, smart, and creepy premises is one of the best ways to excel in the horror genre. John Krasinski and Emily Blunt were not thought to be good casting choices because they are married in real life, but in this movie their acting was so over the top, that it completely took that issue out of the picture. The movie keeps you on the edge of your seat till the very end.
The Witch (2015), is a very intense film which is directed by Robert Eggers. The Witch's overall story according to IMDb is, William and Katherine try to lead a devout Christian life, homesteading on the edge of an impassible wilderness, with five children. When their newborn son mysteriously vanishes and their crops fail, the family begins to turn on one another. 'The Witch' is a chilling portrait of a family unraveling within their own sins, leaving them prey for an inconceivable evil. This movie gets more intense throughout when the family come up with more accusations and trying to express that one person had to have done it, but it wasn't them. This movie had the budget of an estimated $3,500,000, and a gross USA of $25,138,292 and of May 22nd 2016. You can tell by the budget, how much they had to put into the film. It is definitely a stand out horror film by itself.
Venom (2018), is directed by Ruben Fleischer, and in my opinion, this is my favorite Sony and Marvel mashup movie. The movie, like I said is not a horror movie, but it is more of an action/adventure type film. I see how it can be considered a horror movie from another person's perspective, but movies like Alien or The Thing are more horror-like, and have other horror factors to them. The budget for this film is estimated to be $100,000,000, and the gross USA is $80,255,756, which is money well spent, and you can see it it its entirety when you watch the movie. Tom Hardy plays Eddie Brock, in my opinion, much better than Topher Grace's portrayal of Venom in Spider-Man 3. Topher Grace had more dramatic vibe as his character, but Tom Hardy does the best job when it came to this comic book character. This movie, to some people, was terrible and I can see how they can say that. But all in all, if you love Sony and or Marvel films, and you want a true, compelling actor to play Venom, this is the film to see.
Scream (1996), was directed by Wes Craven, who I never knew before this movie came out, but I really respect his work in the film industry. This movie is about a girl named Sydney Prescott, played outstandingly by Neve Campbell, and her friends started to experience some strange phone calls. The learned later in the film that the call was coming from a insane serial killer, played by Roger Jackson, in an iconic white mask and black robe, who was searching for revenge. His phone calls were very directed towards Sydney which gets creepier every time. The movie revolves around creepy trivia, and murder around the town of Woodsboro. This movie was so loved so much by its fans, that the Scream franchise had made 3 movies after it. The budget for this film was estimated to be about $14,000,000, and had a Cumulative World Gross of $173,046,663. This movie will last for centuries to come in the film industry, and has entertained people of all ages. If you like horror classics, then this is the movie to watch.
It (2017), is a horror film witch is both psychologically and visually horrifying when you think about the fact that a non-human being feeds off of your fear when it also can become your worst fear at the same time. The movie "It" is based off of the Stephen King novel with the same name. Stephen King has written The Shining and Salem's Lot, two amazing horror books that are some of his famous workings. This movie was very well made, and expresses its true meaning when you can't tell what "it" is until you see "it". It is doesn't go back as far as the original story goes, according to Thrillist, to a turtle named Maturin, who basically threw up the entire galaxy and lives in space. Pennywise the dancing clown, the main antagonist, hates the turtle lives in the same space-beyond galaxy dubbed the "macro verse" by King. Pennywise is a creepy looking clown, no matter who you are, and he is played by Bill Skarsgård who is an amazing actor in general, but played Pennywise as he is portrayed in the book. If you haven't seen this movie, you should definitely see it, but if you're afraid of clowns, do not watch "it".
Rosemary's Baby (1968), is a very, I would say, is an "interesting" horror film because of its plot and setting. It is a film directed by Roman Polanski, who did a fine job with this film, but I can't get upset with him given the plot that he was given. And the reason that I say that Rosemary's Baby is an "interesting" horror film, is because it feels like a movie that could have been directed towards a different direction, but to me, it felt like the movie plot was just thrown around and didn't have the kind of horror stylings of others around its time. The plot of the movie is expressed on IMDb stating, "Desirous of starting a family, the young Catholic housewife, Rosemary Woodhouse, and her struggling actor husband, Guy, move into the Bramford, New York's iconic building which brims with unpleasant stories of obscure dwellers and ghastly occurrences. Before long, the young couple is befriended by their elderly and somehow eccentric next-door neighbors, Roman and Minnie Castevet–and shortly after–Rosemary unexpectedly gets pregnant." Rosemary is played perfectly by Mia Farrow, and the husband is played by John Cassavetes. Over time she unknowingly burns bridges with her family and friends, and gets sinister hints about her newborn child. This movie involves Satanism, and is probably used in the worst place possible, towards her baby. This movie didn't really hit me as a horror film, because it does have horror elements to it but that doesn't make it a horror movie in my opinion. At its time, the movie was very nerve-wracking to those who watched it and I can see how it could give off that feeling of unstable and insecurities of life. This movie is very well known in the film industry, and deserves the credit. So if this movie hits you as a horror film, why not watch it?
The Others (2001), is an intense film in which a woman who lives in a darkened aged house with her two photosensitive children becomes convinced that her family home is haunted by ghouls and evil spirits. This film was directed by Alejandro Amenábar, who did an amazing job putting this all together. The plot of movie is that a woman with the name of Grace retires with her children to a mansion in Jersey, near the end of World War II, where she has been waiting for her husbands' arrival from the battle. Both children have a certain disease in which they can not be touched by sunlight without being injured in some sort. They live in the mansion with unusual and somewhat religious followings, until she needed to hire some servants for them. And when they arrive, everything goes unexpectedly wrong. The main character is played by the beautiful Nicole Kidman who plays the amazing role of Grace Stewart. The budget for this film according to IMDb was an estimated amount of $17,000,000, with a Cumulative Worldwide Gross of $209,947,037, and from this evidence, you can tell that this movie is a well crafted film and is very loved by its audience. The reason why I love this movie is because I personally like historical fiction, and this movie puts both that, and horror elements together. I didn't know about this film before, but it does have a very unique story line. If you are into historical fiction and horror, then you should definitely give this movie a chance.
The Evil Dead (1981), is a scary film that tell about five friends who travel to an isolated cabin in the middle of the woods, where they unknowingly release tons of flesh-possessing demonic creatures. This film was directed by Sam Raimi, who did a very artistic job when it came to putting this story together. The plot of The Evil Dead is when five college students temporarily retire from their stressful lives to spend a tranquil vacation in a remote cabin. Once the book and tape are discovered by a person, the powerful evil is released when the incantations have been read aloud. It is every man and woman for themselves until one survives, and has to fight the evil entities till the morning arrives. Two of the main characters consist of Bruce Campbell as Ashley 'Ash" J. Williams, and Ellen Sandweiss who plays Cheryl. According to IMDb, this film won 1 Saturn Award, 2 Catalonian International Film Festival Awards, and was Nominated for a DVD Premiere Award. The reason why I love this movie is because it takes the zombie horror effect, and adds it to an untruthful friendship where each person learns more about the others. It's really a free for all, until the evil entities have stopped arriving. If you are into classic zombie films, or sudden changes throughout a film, then this film is the one for you.
Alien (1979), is a film that everyone should've heard of before, and if you haven't, then you are missing out on a bunch. This film was directed by Ridley Scott who did an outstanding job on this masterpiece of a film, using effects that are not of this world. The story takes place in the future, where the crew of the commercial spaceship Nostromo are returning to Earth when they get a distress call from a distant moon. The crew goes to investigate and all of a sudden, their spacecraft makes a rough landing on the planet. When they discover a hive colony of some unknown being, it turns out that instead of a distress call, it was actually a warning. When a single egg gets disturbed, the crew realizes that they are not alone anymore. The creature is called the Xenomorph, and when you see the iconic monster you can't believe your eyes when you see all the detail put into it by the costume designers and makeup artists on set. According to IMDb, the budget for this movie was estimated to be $11,000,000 and the Cumulative Worldwide Gross was $203,630,630, in which you can tell how much this movie struck out with the audience when the movie received $192,630,630 more than it put in. The reason why I love this movie is because it takes place in space unlike any other horror movie in modern day, or even back in the 1970s. This movie is one of my personal favorites because it uses an amazing art concept and story line, with beautiful visuals and the feeling of not knowing what will happen. If you are into science fiction horror films, this is one that you don't want to miss.
Loading ...
These horror movies are amazing in their own ways, some were better thought out than others, but others still came out on top. These movies were a combination of my opinions and other user reviews, and I feel that we have a common ground when it comes to horror movies throughout the years. There are a lot more horror movies that I love, so hopefully I'll make a second top 10 list in the future. Seeing how far we've come film wise, I can't wait for what lies ahead of us in the future in the film industry. To finish it all off, these are the top 10 horror movies throughout history.
Leave a Comment
About the Contributor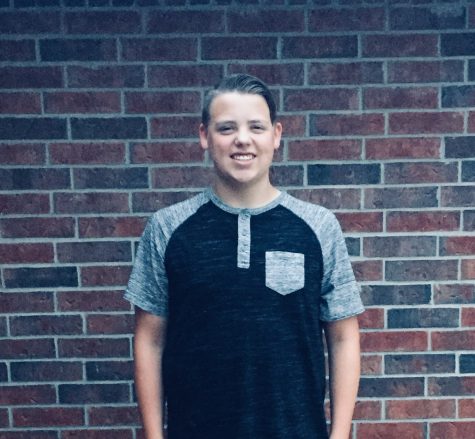 Tyler Bailey, Staff Writer
Tyler Bailey is a junior at Ada High School. He is beginning journalism as a first year writer for the AHS Cougar Call staff.

Besides writing, Bailey...