Pregame Traditions
Hang on for a minute...we're trying to find some more stories you might like.
Many people have a pregame ritual, and Ada High School is an avid promoter of many activities. From faculty members and coaches, to football players and band members; Ada High has diverse environment for rituals before games.
"Ms. Duncan, Ms. Davenport, and I go eat Mexican food, then go to the game," said Ada High teacher, Ali Rackley.
Every game, the football team receives a motivational speech from a speaker about how sports changed their life. These speeches also typically describe how brotherhood is about looking out for each other. Then the football team runs out to the cheering crowd. Tyson Going, a Junior linemen says they also have team dinners.
The AHS cheerleaders have their own pregame traditions. They get together, stretch, and review their routine until there are not any mistakes; after it's perfected, they pray, then perform. The question is, does do these pregame traditions help?
"I do think it helps; it keeps our heads clear and keeps us confident so we can do the routine," said, Hope McDonald, Junior cheerleader.
The AHS band has multiple pregame traditions. Most sections tend to do their own thing, occasionally joining other sections in their rituals. Many of the band traditions are performed for good luck before their halftime performance.
The Low Brass, consisting of baritones, trombones and tubas have an "interesting" tradition. They round up in a circle while someone wears a mask and yells.
"Komete! Komete! Ah! Ah! Kamate! Kamate! Ahh!"
The group joins in the chant as they are hitting their chests with a closed fist each word. They then stop all of a sudden,  huddling up close to one another, and go back and start all over again.
Saxophones have a "silly" tradition, but they have fun doing it. The Saxophones will get in a circle with one person in the middle. This person will start off saying "Who puts the sax in Saxophone?" Those in the outer circle will respond, "We do! We do! We do!" progressively getting louder and louder until they are yelling.
"It's kinda silly and doesn't make much sense but, it's fun to get to really hyped for the game," said Lexie Davis, a Sophomore saxophone player.
At Ada High, rituals have been in effect for years. Some have evolved, and others have been forgotten. However, the sentiment is still the same throughout the years.

About the Writer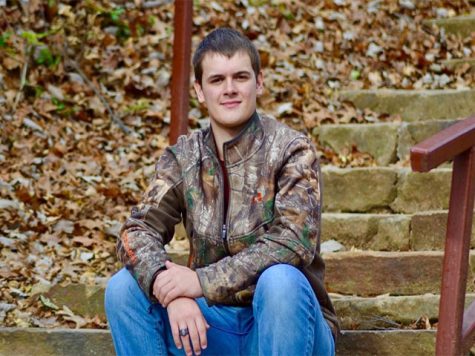 Tyler Mitchell, Writer
Tyler Mitchell is a second year staff member of The Cougar Call. He will be working as a staff reporter and photo Editor.  He is a Senior in Ada High,...