Spider-Man Into The Spider-Verse is Marvel's latest success
Spider-Man Into The Spider-Verse (2018), is a action packed film that is very new to Sony Pictures and Marvel Studios when it comes to art style and animation. The story line is vastly spread throughout the Spider-Verse and ties all of it together to be enjoyed by many people all around the world. This movie was a gigantic hit, and no doubt, was a gift to all Marvel fans, especially the hyped Spider-Man fans waiting for its release. This film perfectly fits into the Marvel universe, and doesn't let you down throughout its entirety. I am going to talk about some important parts of the film, so here is a spoiler warning ahead of time.
In the beginning of the film, we are aimed toward the perspective of Miles Morales (Shameik Moore), instead of the original Peter Parker that we should all know from his past movies. The setting of the film takes place in Brooklyn, New York, where Miles, the son of Jefferson Davis (Mahershala Ali), who is trying to make it through school, just like every other high school student. He goes into a tunnel system and meets Spider-Man/Peter Parker (Jake Johnson) that we all know and love, but further on this doesn't go how we planned it to. A collider is created and activated by the Kingpin, and blasts through Peter, making all of his dimension doppelgangers merge into Mile's reality, and killing Peter in the process. As we go further into the story, a different Peter returns, and we get to understand every characters back story, either through the story line itself, or through a "Let's do this one more time" that is used by about every Spider-Man doppelganger in the film. I think that this film has every little detail from its predecessors, mainly when it makes fun of Peter Parker's/Tobey Maguire's emo moment with him dancing down the sidewalk, from Spider-Man 3, which is by far in my opinion, one of the best parts of this entire film.
Sony Pictures Entertainment
According to IMDb, Spider-Man Into The Spider-Verse made about $35,363,376 on the opening weekend in the United States, which is utterly breathtaking, because in my opinion, this movie is one of the most inspiring movies when it comes to the messages it gives off, like being the underdog, standing your ground, and never giving up. This film was full of action and adventure, though it isn't like what we are used to. The film had plenty of action, and will keep you sitting on the edge of your seat the entire time. It makes you feel as though you were with him throughout his entire journey, from school, to his origin story, and as he slowly turned into Spider-Man. As you watch the film, you see whatever Miles sees so it really makes you just as vulnerable as him when it comes to connections and other background information, which makes the film way more successful than others at its time.
Loading ...
The voice actors in this film were incredible, featuring Shameik Moore (Miles Morales), Hailee Seinfeld (Gwen Stacy), Nicholas Cage (Spider-Man), John Mulaney (Spider-Ham), and Kimiko Glenn (Peni Parker), and Jake Johnson (Peter B. Parker). You might remember Jake Johnson from the show New Girl as his character Nick Miller. The directors of the film, Bob Persichetti, Peter Ramsey, Rodney Rothman, did an outstanding job on this film, which you can see throughout the film. Without these talented men and women, this film would not be possible. I can't forget about the song "Sunflower" by Post Malone and Swae Lee which, thanks to the massive hit of the film, it became #3 on the Billboard website. All of these unimaginably talented people set a goal of making this film one to remember, and they did what they said. I can't imagine what will happen next, if they decide to make a sequel, because there are an infinite amount of possibilities.
This film has a 97% on Rotten Tomatoes, according to the Rotten Tomato website. The movie to me is a 10/10, especially since it changed my mind about it entirely. It involved a Stan Lee cameo and dedicated the film to him, shown at the end of the credits, which really touched every person in the theater. Each scene is 2 fps, which makes it visually look like comic book pages, a very cool never done before style when it came to this genre of film. The story starts at Miles' all time low then rises to his greatest accomplishment yet, which can touch the audience, making them feel like nothing is impossible if they put their mind to it.
Post Malone
In its entirety, this film stands out and is one that has made its mark in the film industry. Its messages are strong and empower anyone who doubts their abilities to accomplish the tasks they feel they are incapable of doing. You will leave the theater feeling more empowered in a variety of ways, but each person has their perspective which makes this one of the best movies of 2018, in my opinion. This film goes to all of the dark places of the Spider-Man comics, and will take you on an emotional roller coaster for the entire length of the film. The bonds between these characters can easily reflect on each person in the audience, which is what some movies can mess up on. The impact on people's emotions made by this film is insane, it maybe an animated film but it pulls you closer to your loved ones and empowers you just as much simultaneously.
Whether you are a Spider-Man fan or not, it is a journey you'll want to remember, as time passes by. Not many films can do what this film has done, which truly shows its highest potential overall. This being said, you can easily see why these factors come in to play when it comes to competition. This film is guaranteed to touch a lot of people, and it does an outstanding job in doing so, using nostalgic memories from the past related to the film, even making adults feel like their inner child again. This film is one that will be remembered in the long run, and won't have any struggle climbing to the top of the charts. If this film is something that intrigues you, spread the word, and be sure to keep the message going.
Leave a Comment
About the Contributor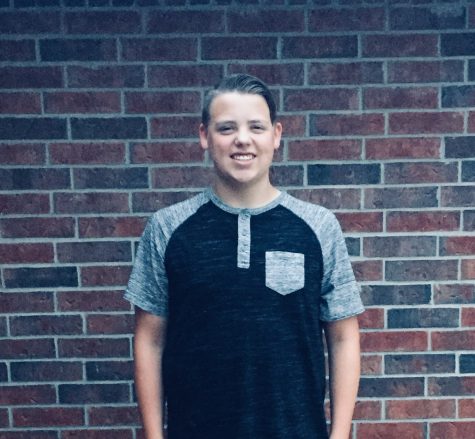 Tyler Bailey, Staff Writer
Tyler Bailey is a junior at Ada High School. He is beginning journalism as a first year writer for the AHS Cougar Call staff.

Besides writing, Bailey...