Announcements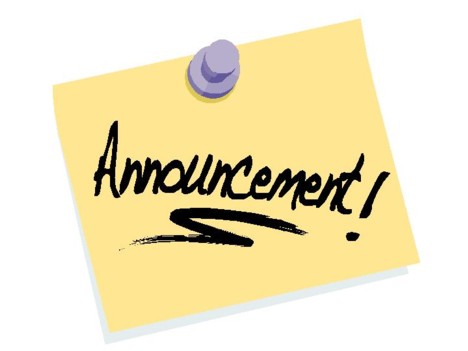 APPLICATIONS FOR CAMP GODDARD SPONSORS CAN BE PICKED UP IN MRS. SHERBERT'S OFFICE. THE DEADLINE TO TURN IN YOUR APPLICATIONS WILL BE THURSDAY, APRIL 2. YOU MUST MEET THE FOLLOWING CRITERIA.
Must be a graduating Senior at AHS
Must have a 3.0 GPA or Better
Must have attended AHS for the past 3 years.(10,11 and 12)
Must be approved to attend by AHS Principal, Jeff Maloy
Must be dependable, responsible and exhibit leadership qualities.
Students who are serious about going to Japan this summer should see Mrs. Gamble as soon as possible. There will be a meeting with the parents of those who are going this summer Monday night , March 30, at 7 p.m. in Mrs. Gamble's room. Please apply for your passports now. It takes 6 to 8 weeks for them to arrive.
Philosophy Club has Are You Meta-Cognizant t-shirts on sale for 13$ contact Mr. Robbins for more information.
Attention Sophomore and Junior Girls:
Ada High Cougann try-outs start next week! Girls who are interested in joining Couganns should stop by the front office any day this week, sign up and get a Try-Out packet.
This Friday, March 27, is the deadline for turning in paperwork! You may leave forms at the front office or bring them to Mrs. Waters in Room 103.
Prom tickets are still on sale-look for the table during 10 minute break or got to Mrs. Moore's room during lunch. If you did not participate in the prom fundraiser your junior or senior year, you will be required to pay an additional $25. No tickets will be sold after March 31- NO EXCEPTIONS. So buy today!
If your are interested in running for an office in Science Club. Pick an application up from the round table outside of Mrs. Gamble's room.
There will be a Science Club meeting on Tuesday.
Teachers,
It's time for our annual award celebration. Mark your calendars for Tuesday, March 31, at 5:30 p.m. in the Trinity Baptist Church Fellowship Center. The Cougar Education Organization hosts this presentation for the every year with a light supper, awards, and drawings for door prizes. Please come, and make Ada High proud of its representation.
Leave a Comment