Berus hired as new head football coach, will continue to 'build on Ada Cougar tradition'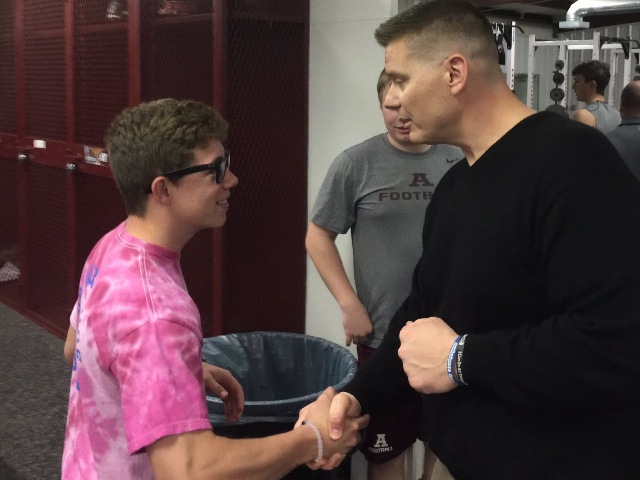 The Ada High School football team will look to former Cougar Chris Berus to take the helm after the departure of head coach Wade Standley, who will make the move to Deer Creek High School in Edmond. Standley, whose time as Ada's head coach produced a 11-10 overall record (9-4 district play), will assume the head coaching position at Deer Creek High School in Edmond.
#Ada (@WeAreAda) hires @ChrisBerus to lead the 19-time state champion Cougars football program. https://t.co/voYUh6i61P pic.twitter.com/JuoVsATREY

— Jeremy Thomas (@JeremyOBThomas) March 23, 2017
As reported by The Ada News, Berus, who served as an assistant coach at Ada High from 1996 to 2005, returns to cougar country after spending two seasons as the assistant head coach at Shiloh Christian High School in Springdale, Arkansas.
Berus has plans for his new team which include turning the program into a 4A powerhouse this season. He conveyed these plans in the first meeting with his new players.
Ada wide receiver Lincoln Gibson has high hopes for playing his senior season under Berus.
Loading ...
"He seems like an intense guy after meeting him the first time in the locker room. [He] is well known around Oklahoma leading the Plainview Indians to a successful season the past few years. I am looking forward to getting to know him throughout spring ball and move into the season knowing his game plan and what he expect of us. I'm excited to get to know him," said Gibson.
Gibson is not the only person excited to see what Berus is able to accomplish at the helm.  Ada Athletic Director Bryan Harwell, who recommended Berus for the position, believes Berus to be a great fit for this role.
"He's a former Cougar. He's excited about being here," said Harwell in a recent Ada News interview. "He wants to be in Ada and he's coming here to stay. I think he'll continue to build on Ada Cougar tradition."
Berus, whose 13-1 record as head coach of the Plainview Indians spurred a state semifinals appearance, will lead the Cougars in their quest for a 20th state title. However, as expressed in his first team meeting, he plans to play the season game by game, day by day, practicing to be better than the day before.
Defensive back coach, Mart Leming, is no stranger to working with Berus as both worked on the Ada coaching staff during Berus' last stint as a Cougar.
"He has worked under some outstanding coaches, Coach McBroom, Gary Rose, and [he] has what is needed to be a great asset to the coaching squad," Leming said. "He is a man of great character and great qualities as far as coaching goes. The hiring of Berus was a fantastic hire."
Back-up quarterback, Ethan Clark, is looking forward to what Berus will bring to the team.
"He's pretty good and brings a new atmosphere to the football team that we haven't had in a while. It's making us all look forward to this upcoming season and working hard," said Clark. "Coach Berus' intensity will get our heads in the right place and ready to go out and bring back the winning environment to the Ada school system."
About the Contributor
Jackson Southard, Sports Editor
Jackson is a first year staff reporter for The Cougar Call and a junior at Ada High School. He enjoys playing baseball, hanging out with friends and going...