An open letter to the faculty of Ada High School
Teachers, principals, counselors, coaches, custodians and everyone in between: You are life-changers. You are shaping the future of this country with the wisdom you all pass down. You not only teach us lessons from books, you teach us how to be better people, how to solve problems, how to grow up in a world that we feel is so against us as teenagers.
The staff at Ada does not get enough thanks for the time and care that you all put into students' lives. So many of us can be so forgetful for how much it takes to work at a school, in any position. The time, money (or lack thereof) and effort you all put in should never be out of mind. Bringing up the future of America is not at all an easy job, and you make it look so effortless with a smile on your face and care in your heart.
So very often we students hear staff call us "world changers", when in reality it is you, the people teaching us, mentoring us, becoming people we can confide in, it's you all who are the real movers and shakers in this world. If it weren't for the adults who walk these halls along side us everyday, the future would be looking quite bleak.
Principals, we thank you for having the skills it takes to run a school. It takes so much to oversee a whole body of students, to handle any issue no matter how big or small. Without your problem-solving abilities or your knowledge, the school would be a disaster. Thank you for keeping Ada High running smoothly.
Counselors, we thank you for being there for us, whether we need to talk to someone about the everyday dramas of being a teenager or planning our futures with you. You hold a special care for us in your hearts, we know you want us to be successful in all we do, we are so grateful for your help with everything we ask.
Coaches, we thank you for building us up and pushing us to be the best athletes and people we can be. You pour into your athlete's lives, not only physically but also mentally. You all build relationships with your teams, you are there for them no matter what. You never leave anyone behind. We are thankful for all you do to help us in and out of our sports.
Custodians, we thank you for all you do to keep Ada High beautiful, from grounds keeping to fixing up things around the school. The school would quite literally fall apart without the work you put in. You do not get enough credit for the hours of hard work you do for the school.
Teachers, we thank you for investing in our futures. It takes a special type of person to teach children, and you are all so gifted at what you do. Not a day do you ever let your students down. The long hours and nights filled by grading do not go unnoticed. The effort you put into your job shows every single day. Early mornings and late nights at the school, those hours of your life you invest into us instead of yourself, we thank you for every minute. We couldn't be where we are without each and every one of you building us up, making us be our best selves, being there for us. So many students think of the teachers at Ada High as friends, and we thank you for that relationship you share with the kids in these halls.
We students are truly blessed to attend a school with all of the faculty who care so deeply for us.
Sincerely, Ada High Students.
About the Contributor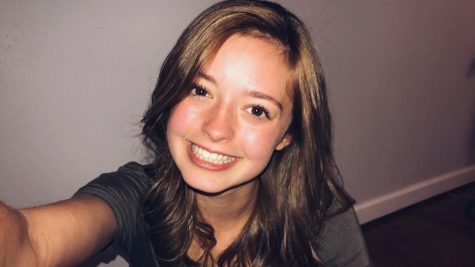 Kaelie Miller, Social Media Manager/Staff Writer
Ada High junior, Kaelie Miller is a second-year staff writer for The Cougar Call. She also serves as the staff Social Media Manager.

Miller, who has...