College of the month: University of Oklahoma
College of The Month is a new article series. Each month, distinguished or surrounding area college is selected for review. This lets our students and audience know possible important information and statistics about preview colleges.
The second college in the College of The Month series is The University of Oklahoma in Norman, Oklahoma. Oklahoma University's  establishment was created in 1890, and now it's in the heart of the city of Norman.
OU offers a wide variety of degrees including bachelors, masters and doctorates from 12 different colleges and schools on and off their Norman campus.
OU is viewed as an outstanding college from former OU students and it is placed on the top 100 colleges in the U.S.  It's also close to home for those living near Southeastern Oklahoma, Northastern Oklahoma, and the people living near Oklahoma City.
Catlin Cowart, a former AHS student and Boomer Sooner at heart is attending OU.
"When I was in junior high, one of my dance teachers, who was an AHS alum, was on the Pom squad for the University, and I knew that was something I wanted to make as a goal for myself."
Cowart joined the spirt program, cheer and a sorority at OU.
"My sorority is very involved on campus and off. We raised money for St. Jude's Children's Hospital …Both of these are very dear to my heart because I live being part of something so much bigger than myself and knowing I did something to help those organizations."
Cowart has ultimately, enjoyed her stay at OU so far. She's Oklahoma University's class of 2016.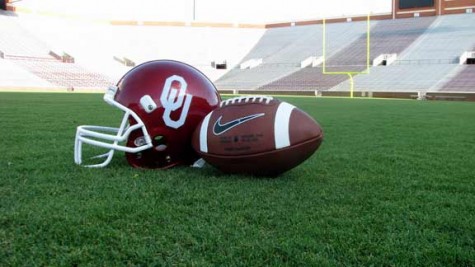 There are several AHS students with plans to attend OU. Joshua Aynes, Senior, has already applied and been accepted into OU.
"I'm going ( to OU ) to major in meteorology. It's the best meteorology school in the U.S.  I'm going there because it's going to challenge me," said Aynes.
According to Prepscholar, OU has an 80 percent acceptance rate. OU seeks applicants with a 3.59 GPA and an ACT score of 26.
 The average cost for in-state tuition at OU:
Tuition: $4,128
Other Fees: $5,367
Room and Board: $9,126
Books and Supplies: $720
Total :$19,341 per year
Non-resident tuition is estimated at approximately $32,000 a year.
According to US News, OU is a moderately priced college and had about 22,000 students enrolled as of 2016. Class size may vary as 42% of classes have fewer than 20 students, 47% of classes have 20 to 49 to students and 11% of classes have 50 students or more.
If interested in attending OU, visit their website at http://www.ou.edu, contact the campus operator at (405) 325-0000 or or contact the office for future students or visitors at (800) 234-6868 or (405) 325-2151. All applications for 2016 fall classes are due April 1st.
View Comments (3)
About the Contributor
Chris Henry, Senior Reporter
Chris Henry is Senior Writer and Reporter for The Cougar Call at Ada High School. He's new to Journalism and having to to adapt to the ways of reporting...