Two Dudes, Chilling in a Hospital, 5 Feet Apart 'Cause They Have Cystic Fibrosis: A Review
5 Feet Apart movie review
**MAJOR SPOILERS**
Often compared to and referred to as the new Fault In our Stars and speculated homage to Clair Wineland, 5 Feet Apart is a beautiful, thought provoking love story that inspires many to hold their loved ones close simply because they can. The main stars, Stella and Will were played respectively by Haley Lu Richardson and Cole Sprouse. The two form a talented main cast, accompanied by other promising actors such as Moises Arias; Stella's life long friend, Poe, who also has Cystic Fibrosis also and resides in the hospital room just down the hall from hers, and Kimberly Hebert Gregory; everyone's favorite, yet least favorite nurse-turned-mother-figure, Barb. Together they weave a story of pain, guilt, inevitability, love and romance. This story tells of a calamitous romance centered around both Stella and Will, but also life in itself.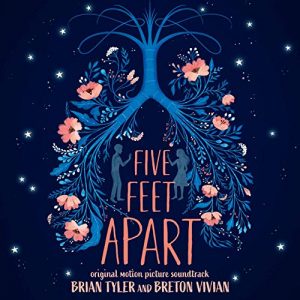 5FA, as I've promptly nicknamed it, was not as cliche as some critics like to claim. It's a severe twist on the classic Romeo and Juliet act, going as far as to ban the lovers from not just love, but physicality and health as well. Though they are similar to our beloved, tragedy stars that are R&J, both lovers do survive. Two star-crossed lovers, kept apart not by their family or death, but by their sickness. Their survival is exactly what tugs on your tear ducts the hardest. Sounds contradictory, right? Quite the opposite. Knowing the love of your life is just as in love with you, but must leave forever to keep you safe is an emotional wound you can never heal from. To know that your existence itself has banned you from love, from touch and experience. That, is tragedy.
Stella is a bright young, "slightly anal" woman. She vlogs, helps plan school trips, organizes her medicine cart obsessively, avidly keeps her to do list up to date and decorates her hospital room just as any normal teenager would decorate their own. Her vlogs follow her daily life in dealing with her sickness and shed light and awareness on Cystic Fibrosis. A ray of sunshine wrapped up in OCD wired optimism, Stella is completely unprepared when a fellow CF'er, as they call it, shows up with a disregard for his own life and a sense of disinterest in their shared experimental treatments.
In contrast, Will is a pure blood cynic. Rightfully so, as his prognosis looks quite a bit darker than our dear Stella's. Will is a total teenage rebel heartthrob. He hangs out on the roof with out his respirator, doesn't follow his treatment guide, draws mocking cartoons and probably practices his one-liners in the mirror.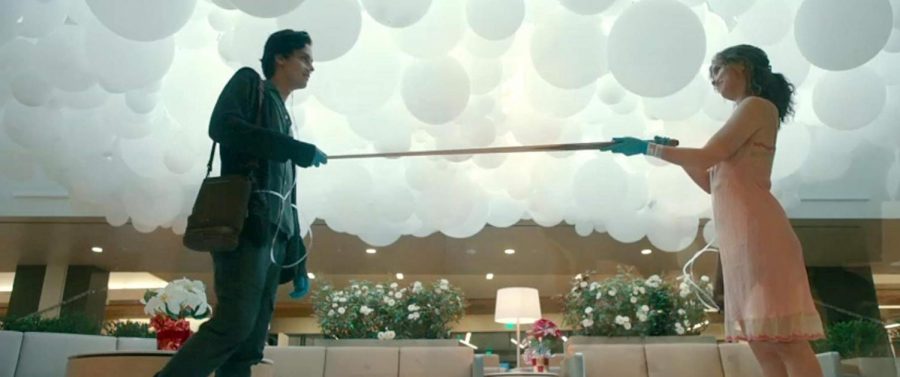 Will, immediately smitten with Stella waits it out until she inevitably comes around, unable to ignore his cynical charms, but mostly due to her inability to handle the fact that Will had informed her he rarely follows his treatment plan. After trying, and failing miserably to ignore this fact, our cute but compulsive protagonist decides to make a deal. In return for Will doing his treatment plans alongside Stella, she would allow him to draw her. Of course, from the appropriate distance. Cystic Fibrosis patients must stay a minimum of 6 feet apart, in order to avoid catching any of the others bacteria. And thus, a romance blossomed between the meditation and workout sessions, the mutual pill popping and meals spent over video chat. Between the pool visits, goodnight calls and chemistry it was all the two could do but take back a foot for themselves, to Barb's disdain.
5 feet apart with a pool stick between the two, they went on their first date. Another exceptionally heartwarming scene with Poe, all of Will's friends and a beautiful party planned by Stella later and Barb is adamant on transferring Will to another hospital to preserve what's left of the two's lungs.
In the end, after an (undisclosed in this article) death of Augustus Waters proportions, a life threatening experience on the ice, the only kiss they'd ever share and some serious surgery, our cynical bad boy with a heart now three sizes bigger takes his leave, taking with him of the hydration of everyone in the audience's body in the form of tears. This is a movie where tissues are more essential than popcorn.
Five Feet Apart, at is core is not just a movie that portrays a sickly romance. It is a movie of appreciation, of awareness, guilt and acceptance. It was movie that reminded you what's truly important. In the beginning, Will was such a cynic he denied his own treatment. He thought there was no reason to waste his final days 'wasting away' in a hospital bed, instead of out living life. One of his most famous quotes is claiming that we're all breathing borrowed air, on borrowed time and I genuinely believe this represents a strong essence of his character. But after meeting Stella, he stuck to his regimen. She ignited something in him that reminded him that you don't live for how long you're here, but for who you're here with. He did everything for her, to see her smile, to see her happy. To keep her safe. Even, in the end risking his life, and leaving to save hers. Stella had lived in guilt, truly lived out of guilt that her sister had died. She lived for her mother, and her father and everyone else who knew her sister because she felt as though she didn't have a choice. It was Will who gave her the confidence to say:
"This whole time I've been living for my treatment, instead of doing my treatment so that I can live."
This was a movie that touched on everything from love, to awareness. From tragedy to reality and meaning to responsibility. I would see this movie ten times over, just to serve as a reminder to myself. I believe the ending quote says it all.
"Human Touch. Our first form of communication. Safety, security, comfort. All in the gentle caress of a finger, or the brush of lips on a soft cheek. It connects us when we're happy. Bolsters us in times of fear. Excites us in times of passion. Love. We need that touch from the one we love almost as much as we need air to breathe. I never understood that until I couldn't have it. So, if you're watching this.. and you're able. Touch him. Touch her. Life's too short to waste a second."
Leave a Comment