Tip Top of The Christmas Tree
Elf-  As a baby, Buddy lived in an orphanage and one Christmas night he crawled into Santa's sack.  Later, when he finds out he is human Santa let's him go to New York City to find his birth father, Walter Hobbs.  Who doesn't even know of Buddy's existence.  But meanwhile, Buddy is experiencing New York's many delight's and the human culture.  And when Walter's relationship with Buddy interferes with his job he has to reevaluate his priorities.
The Polar Express-  The Polar Express follows a doubting boy on Christmas eve, who is on his way to the North Pole on the magical train. On this journey he embarks on a journey of self-discovery and learning how to believe.
A Christmas Carol-  Ebenezer Scrooge is a mean spirited, greedy man who doesn't celebrate Christmas.  He has many kind people in his life who wish him "Merry Christmas" to which he reply's with the phrase "Bah Humbug" . But during the night the ghosts of Christmas Past, Present, and Yet to Come visit him and help him change his outlook on his life. Overwhelmed with his second chance Scrooge finds himself compelled to right the wrongs he had wrought.
Home Alone-  It's Christmas time and with all the hustle and bustle, the McCallister family is on their way to Paris, France.  But they've forgotten something, or should we say someone, important.  The have forgotten Kevin. Kevin is having fun being home alone but soon discover's the plot of two burglars and has to protect his home.
How The Grinch Stole Christmas-  All the Who's love Christmas time and all of it's festivities, yet outside of Whoville lives the Grinch who lives in spiteful seclusion.  The Grinch concocts a plan to take something from the Who's that they cherish deeply, he plans on stealing Christmas.
Rudolph the Red-Nosed Reindeer- Poor Rudolph is a misfit because of his red glowing nose, just like Harvey the elf who only wants to become a dentist. They both just want to be accepted so they set off on a harrowing journey to find a place that they can live without ridicule for their differences.
Miracle on 34th Street- Six year old Susan has been told by her mother that Santa doesn't exist, so she doesn't expect the most important gift on her Christmas list. But after meeting a department store Santa, who she is convinced is the real thing, she is given the greatest gift of all- something to believe in.
Frosty The Snowman- A discarded top hat from a washed up magician, magically brings a snowman to life. But Frosty will melt when spring comes, so he and a young girl he befriended stow away on a freight train and head toward a colder climate. But little do they know that the magician is following them and wants his hat back.
Santa Claus is Coming to Town- The story of how Santa became Santa Claus and started to deliver toys to all the good boys and girls, and how he met Mrs. Claus.
A Charlie Brown Christmas- Charlie Brown complains about how materialized Christmas has become and his friend Lucy advises him to become the director for the Christmas pageant. Charlie become's frustrated as he tries to restore the proper Christmas spirit with a forlorn little fir tree and needs help from Linus to learn the real meaning of Christmas.
Leave a Comment
About the Contributor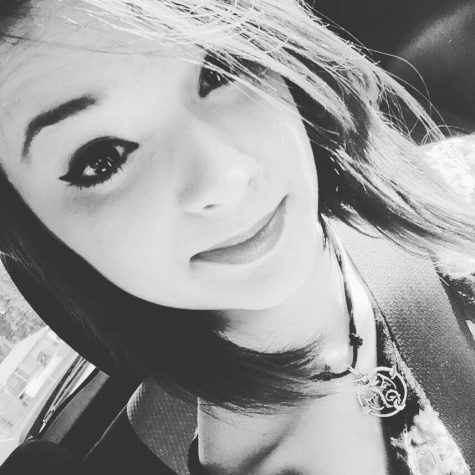 Becky Robnett, Senior Editor, Reporter, Columnist
Becky Robnett is a Senior Editor, Reporter, and Columnist for The Cougar Call at Ada High School. She also participates in Ada High's Band, is in her third...