Around Ada: Haunted Houses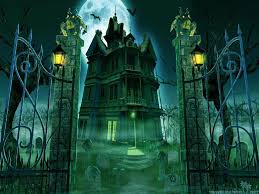 On a dark night in October, what is better than going and getting scared at one of Ada's local haunted houses?  There are haunted houses for all ages; the super scary ones then, the not so serious ones for the little ones.
When choosing a haunted house try to know the people putting it on or at least talk to other people and find out if they know them.  It's better to be safe than sorry.
There will be a haunted trail called Twisted Roots.  This haunted trail is not recommended for children under 13, and make sure you don't wear flip-flops.  Directions: take highway 3 west / northwest until you get to country road 350 (Union Hill Baptist Church, one mile north of Golden's C-Store), turn right and follow the signs. For more information on Twisted Roots, go to http://bigjzx2.wix.com/twistedroots.
For a good family scare, the local Lazer Zone will display a haunted house as well. The attraction is for people of all ages. The haunted house is great for a child's first time. For any addtitional information about the haunted attraction, you can visitLazer Zone's webpage.
If it's a scare you're looking for, these are just some of the places you can go. Remember to stay safe and to have a spooky time this Halloween.  HAPPY HALLOWEEN!!!!
Leave a Comment