Students spend spring break preparing for RUSH Week
To many students, spring break is the time of year for fun and relaxation, leaving school, work and stress behind. For others, it is a time to snooze the day away, making up for valuable hours of  sleep lost during the hectic school year.
However, this year a group of Ada High students spent their spring break working tirelessly within the walls the building most were so desperately trying to escape.
While others relaxed, the AHS StuCo decorated the entire school for the upcoming RUSH week.
RUSH Week (Real Unity Starts Here) is an week long series of events coordinated by StuCo to help the student body come together with the commity in an effort to create a community wide service collaboration, raising money for a worthy cause.
This year was Ada's third annual RUSH Week. For the first two years a partnership was formed with The University of Oklahoma's  Soonerthon to raise money for Children's Miracle Foundation. However, this year Ada High had a different recipient in mind, a very special recipient. This year Ada High's own Avery Anderson would receive all funds raised during RUSH Week.
Last July, just short of the beginning of her senior year, Anderson and another AHS student, Karsen Sheffield, were involved in car accident, leaving Sheffield with multiple injuries, including a broken pelvis, and Anderson with traumatic brain injury amongst other medical issues. Today, Anderson remains under constant medical care.
This year, the Ada High StuCo members and other other AHS students gladly sacrificed their spring breaks to make this the most successful RUSH Week yet. Painstakingly attentive to detail, they transformed AHS into a scene from summer camp, representing one Anderson's most beloved activities.
Spending their spring break working at the school was not all work and no play for StuCo members like senior Kishan Bhula.
Bhula said, "It was a blast, probably the most fun thing we ever did at AHS, and we were all together to help Avery."
According to StuCo adviser Shawn Freeman, over 35 students showed up to work during spring break, painting, hanging signs, decorating and more.
Freeman said, "They spent almost 30 hours working in the hallways just trying to prepare for RUSH Week and help raise money for Avery," Freeman said, bearning with pride.
When classes resumed after the break, students were met with the sights of campouts and starry skies.
Senior Morgan Freeman couldn't believe how well everything turned out.
Freeman said, "I think they did a phenomenal job. All you have to do is take a good look at the walls."
About the Writer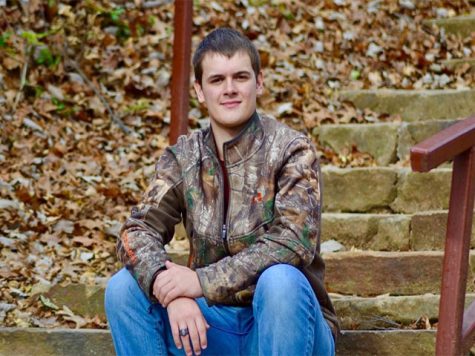 Tyler Mitchell, Writer
Tyler Mitchell is a second year staff member of The Cougar Call. He will be working as a staff reporter and photo Editor.  He is a Senior in Ada High,...