Who's Got Spirit?
The Ada High School Couganns Do!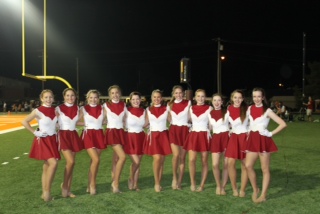 This year the Ada High Couganns have thirteen members. Members include: Senior Captain; Devon Anderson, Junior Co Captains; Madee McGill and Avery Caroll, Junior; JoJo Rogers, Sophomores; Camryn Horne, Caden Johnson, Stephanie Koscinski, Freshman; Carli Manwell, Natalie Jack, Maddie Bacon, McKenzie Dean, Hannah Kaiser and Madison Yates.  Coach of the Couganns this year is Kaile Radford. Director of the Couganns is Suzanne Ivory, who is in her second year as the Couganns director.
The Couganns practice every morning from 7:30 to 8:30 and after school from 3:15- 4:30 every day except Tuesday. The Couganns participate in Oklahoma State Dance Team Directors Association, or OSDTDA, a state pom competition. This year's state competition  is in December at OCU. The Couganns currently have eight state titles and are hoping for a ninth. This year the Couganns will be taking a state kick routine called, 'Hooked on a Can-Can' which is choreagrahped by Rachel Benham Hendricks.  Sophomore, Camryn Horne says she is "looking forward to a great year with all of the girls and is ready for state!"
You can find the Couganns on the sidelines of every football game and, you can watch them perform on the field at half time during home games.
Leave a Comment