Cougar golf hits the season off right
Ada golf looks to set off another successful golf season in 2018. The team came off their first tournament at Wewoka before spring break. As a team the Cougars placed first scoring 327, and junior Max Roberts placed first individually with a score of 71.
Roberts said, "I just did exactly what I was supposed to do and have been practicing for as the first bag."
The team lost most of their golfers from the season before but still brought up younger talent. The new freshmen while possessing the skill to play on the high school varsity team, are playing in the junior high varsity tournaments.
Last year Ada finished as the 4A boys golf state runner-up close behind rival Heritage Hall. This year they're looking to finally win another state title. Under the long time leadership of coach Robbie Powell, they feel pretty confident with their first five bags.
Ada's lineup is in order Max Roberts, junior; Matthew Brown, junior; Ryan Hagar, junior; Ross Kemp, senior and Aiden Plumlee, sophomore.
Ross Kemp is a the only senior varsity player in the first five bags. He's been on the team for four years. His play has contributed  to the team's past success and has high hopes for the new season.
Kemp said, "I think if we actually invest time into practice and preparation for our tournaments we could definitely win regional's and make a run at state."
Head coach Powell was a seasoned golf professional for 20 years, has coached for 11 seasons and has been to the state tournament multiple times, securing a state championship during once. Powell hopes for continuous improvement this season.
"I expect to get better with our practice habits as the season goes on," said Powell. "I expect to make progress as far as getting better with our scoring each week leading up to the regional and state tournament. I plan  on competing with Heritage Hall in Plainview for another state championship."
Weather hasn't permitted much practice due to rain, strong winds and freezing weather, but the team still does what they can with the time and weather they have. The team as a whole looks to return to the state tournament and win it one more time. As the season starts the first  JV golf tournament for Ada will be held in Dickson's Tournament at Lake Murray Golf Course, and the varsity will play their second tournament in the Carl Albert invitational at the John Conrad Golf Course.
Leave a Comment
About the Contributor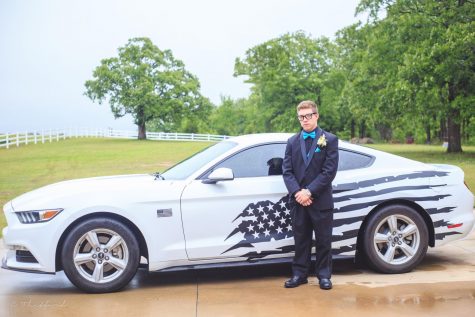 Garrett Rhynes, Staff Writer
Garrett Rhynes is a senior and partaking in his first year of staff writing for the AHS CougarCall.

"I am excited about going out in the community or...