Lady Cougar basketball back in action
Hang on for a minute...we're trying to find some more stories you might like.
Lady Cougar basketball is underway. The Lady Cougars began scrimmaging area teams at the beginning of November and have high hopes for the upcoming season.
Junior point guard Dixie Redman is optimistic that the team will be able to better last year's season record of 22-5.
"I'm confident we'll do well this year. Coming into season was a bit nerve-wracking due to loosing six seniors, five of which started, but the progress we've already made makes me sure this season will be great," said  Redman.
The majority of last year's starting lineup were seniors and have since graduated, several going on to play basketball at the college level. Head coach Christie Jennings will look to this year's seniors to step up and lead the team.
"We have a bunch of seniors this year," said Jennings. "Mikalya Emarthle, she has the most playing time. We're going to depend on her to do a lot of the scoring."
Emarthle, one of the teams leading scorers, advanced to the starting lineup this year despite a preseason ankle injury. Emarthle finished last year as the team's sixth man with an average of 5.5 points and 3.4 rebounds, ending her junior season with a tough loss to Harrah in the semifinals of the state tournament. However, she hopes to return to the state tournament this year.
"My expectations for this year is to get better as a team, have a good season and bring home the gold ball," said Emarthle
The Lady Cougars began their regular season with a match-up against Heritage Hall, whose football team defeated the Cougars in the state championships only one week earlier.
Starting senior post player Madalyn Jaques believes this win will be one of many this season.
"For our first time playing together as a team we did well. We pulled out the win, and I am very proud of us. If we play with as much effort as we did last night, then we will win a lot," said Jaques.

About the Writer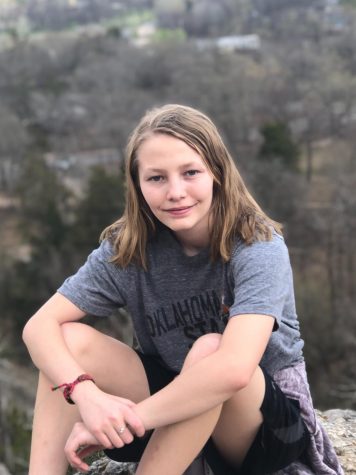 Cheyene Howell, Photo Editor
Cheyene Howell  a senior at Ada High School, is in her third year of journalism. As a photo editor of The Cougar Call, Howell plans to focus primarily...