Should students get jobs in high school?
Is having a job in high school a good idea?
The law states, if students are fourteen to fifteen years old they can only work non-school hours, three hours per school day, eighteen hours per school week. If there is no school that week, then students could work 40 hours, but only to 7a.m.-7p.m. Once a teen turns  sixteen, they can legally work how as many hours as they want in a non-hazardous work zone. At eighteen, they can work in hazardous jobs if they so choose.
The most recent U.S. Census reports that 72 percent of the nation's 19.7 million students hold down at least a part-time job. Many students at Ada High School are part of this 72 percent, holding down jobs while juggling their school work. Why do they work and what effects do these jobs have on their lives? Below five AHS students discuss these questions.
Arredondo currently works at Braums. She got the job at Braums when she was seventeen because she needed extra money for college and to be able to buy the things she needed. She started off working 30 to 40 hours per two week pay period. Sometimes, according to Arredondo, her job will affect her school work.
"It kinda does. Sometimes when I'm closing I don't have enough time to do my homework, but I try to make it up in other classes," Arredondo said.
For many students like Arredondo, in addition to having monetary benefits, the workplace also becomes a place with socialization benefits.
"A lot of my friends work there… I wouldn't want a boring job with boring co-workers," Arredondo said.
Arredondo does not receive any benefits above pay.
Wood is currently employed by McDonald's. She began working there in December when she was seventeen. Wood's reasons for working include money for transportation, school and food. Wood does not believe her job affects her school work. However, she also believes getting a job is definitely worth it.
"I mean, work experience, man," Wood said.
Wood does not receive any benefits above pay.
According to an article published in the Ottawa Citizen, students who gain work experience in high school are more likely to have increased wages and find jobs they prefer later in life.
Tartsah works at Burger King, where she has been employed since August 2017. She said she works about 65 hours per two week pay period.  Tartsah's reasons for working begin with the basic need for food and transport. In addition, she likes earning her own money and not being dependent on others. When she began working at Burger King, Tartsah believes there was a negative affect on her school work. However, she says when she became used to her work schedule, it became easier to manage her school work.
"It's worth it if you want money," Tartsah said.
Tartsah does receive the following benefits above pay: one free meal per shift (approximately six dollars in value), and after working at Burger King for a full year will receive a week of vacation.
Like many students, Tartsah has had difficulty managing both a work and a school schedule. While for some students this can cause major issues with their school work, many like Tartsah manage to adapt and gain independence and money management skills.
During the summer months Allen work for his uncle's construction company, Triple H Construction. He found the job mutually beneficial because his uncle needed help and he needed money. His work days averaged six to eight hours per day but could be as long as ten to fifteen hours per day, if needed. Since Allen was eighteen at the time, he could legally work in the construction industry, which is deemed by law a hazardous work zone. As Allen's employment was not during the school year, he has not observed any negative effects on his school work.
Allen received the following benefits above pay:  the health insurance, dental insurance and monthly raises.
It is not uncommon for students to work only during the summer to make money and gain experience with the potential effects to school work. However, as reported by The Atlantic, the number of teens who work during summer months has dropped 25 percent since 1978.
Loading ...
There are a number of both pros and cons to students holding down jobs while going to school. Many students find their future careers or are steered toward a college major by their high school employment. For example, if Allen loved his construction job but discovered he didn't like the heavy lifting, he could decide project manager is a much better fit or even decide to pursue a degree in Architecture, creating blue prints of his ideas.
On the othe side, having a job may mean the student will have less time with family members miss  family and social events becuase of work. The impact on school work may also affect student's decisions to secure employment. However, sometimes circumstances beyond their control, will prohibit students from keeping their jobs.
An Ada High student who wished to remain anonymous chose Chicken Express as their first after school job at the age of seventeen. The average work week for this student for the first six months on the job included 20-25 hours of work per week.
"I never had time to do homework and was always falling behind in school."
However, that was not the reason this student quit working at Chicken Express. This student found herself in the position of working for an older manager who she says began sexually harassing her. After reporting the incident(s) to another manager, the student was dismayed to learn nothing would be done about this situation.
"I kinda felt like I wasn't worth being defended."
In addition to sexual harrassment by one manager, this student also says she faced bullying by another manger which included starting rumors about her and calling her names. Again the student says she found no recourse in reporting the behavior to another manager, resulting in her decision to leave the job.
"I couldn't take the bullying anymore," the victim said.
Instead she plans to focus on her school work and social life until after graduation and re-enter the work force during college.
This student's story is one of many instances of harassment in the workplace. A 2016 study conducted by the U.S. Equal Employment Opportunity Commission found that 75 percent of workplace harassment victims indicated instances of retaliation upon reporting harassment in the workplace.
About the Contributor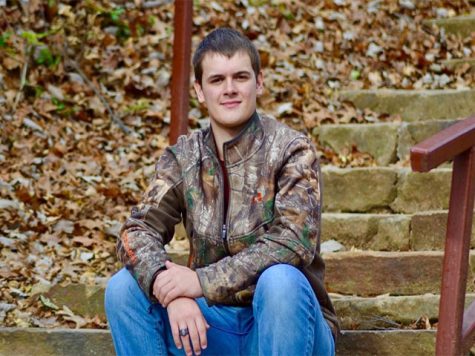 Tyler Mitchell, Writer
Tyler Mitchell is a second year staff member of The Cougar Call. He will be working as a staff reporter and photo Editor.  He is a Senior in Ada High,...