Ada High marching band adjusts to new administration
The Ada High marching band is under new leadership as Richard Howard fills the position of 6 year band director Eric Hall.
Hall returned to his alma mater in Illinois, accepting their head director position.With Ada High in need of an instructor, Howard took on the job.
Since beginning their marching season at the end of July, the students have been adapting to their new lead band director. Many members agree rehearsals are going strong and that the change in administration hasn't stopped them from picking up where they left off.
"Mr. Howard has been a part of the band for such a long time, most students were already warmed up to him and used to his teaching," said Senior saxophone, Will Pottebaum. "He's got a lot of ideas, and he's going for them."
According to the band, the departure of Hall hasn't slowed their work ethic in the slightest. If anything, it has motivated them to strive to be a better ensemble.
"We've already gotten so much done considering school just started; the opener is already set and we are moving onto the second movement," said sophomore baritone Morgan Urlaub.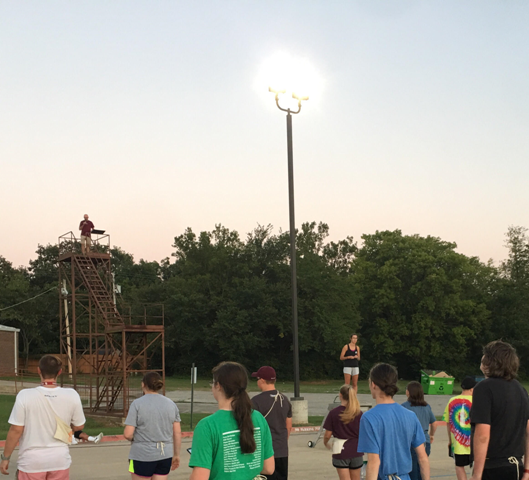 While most members are comfortable with Howard's techniques, several students agree the adjustment has been hard on some of their peers. However, many are in agreement and are prepared to step up and not allow change to hinder their efforts.
Senior trombone Caleb Manning brought attention to the strain regarding the transition.
Manning said, "About a quarter of the band isn't adjusting too well, it's something to fix."
Many members, such as junior trumpet Arren Pardue, are staying optimistic throughout this adjustment period and hope to make finals with the show they are preparing.
Pardue said, "I'm hoping for good practices and performances for the rest of the year."
The band's style as a whole has transitioned as well. This year's show, "West Side Story," takes on a hard hitting jazz theme as opposed to their previous classical performances such as "The Black Swan."
Sophomore percussionist, Tim Wakefield believes Howard is taking the band in a new direction this year.
Wakefield said,"The percussion line gets to have visuals now where we didn't before. It's really exciting."
Howard believes the band has made great strides this season and will continue to make progress throughout the year.
"The show is well under way and the band is playing and marching really well," said Howard. "We should have a wonderful year of performances."