P.A.W.S. too Crowded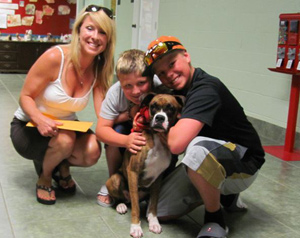 Ada's local animal shelter, P.A.W.S., has recently taken in too many animals. Within the past two weeks, about 15-20 cats and dogs have been put into their care. The shelter doesn't have enough room to fit all of these animals safely and comfortably. P.A.W.S has been doing everything they can to find homes for the animals, like even holding an event for dogs. Some of the felines have been taken to PetSense, so people looking to adopt can learn the cat's name, age, gender, and whether they are spayed or neutered. The dogs and cats can stay there all day, but sadly most do not even get noticed.
A lot of people seem hesitant to adopt as P.AW.S. mostly has older animals. It's not rare for the shelter to get kittens or puppies, but it doesn't happen a lot. When someone goes to adopt an animal, they want a baby. However, older animals are just as much fun! Older dogs or cats are easier to take care of, too. With a puppy or kitten, they aren't trained to use a liter box or know not to use the bathroom inside the house. Adult pets are as just as playful!
Maci Neal, an avid P.A.W.S. visitor, says, "The shelter goes through times of being over crowded, and if they don't find good homes, they're forced to make room. Sometimes they have to put two or three dogs together."
"And the cats are even worse," Hannah Kaiser, P.A.W.S. volunteer, adds, "The shelter has to hold several cats in tiny cages that are only built for one cat. They're not trying to be cruel, but they just don't have any places for them."
It doesn't matter what kind of dog or cat you like because P.A.W.S. has all types to choose from. Whether prefer big dogs, small dogs, or even special need dogs, there is an animal for you! You might just save an animals life, so give a helping hand and adopt today!
P.A.W.S. Animal Shelter information:
580-332-5233
Shelter hours:
Monday 10:00am-4:00pm
Tuesday 10:00am-4:00pm
Wednesday 10:00am-4:00pm
Thursday 10:00am-4:00pm
Friday 10:00am-4:00pm
Saturday 10:00am-2:00pm