Bohemian Rhapsody (2018) Movie Review
Bohemian Rhapsody (2018), is a film that is based around the origin and occurrences that made up the band that you know now as Queen. The story is based off the perspective of the lead singer, Freddie Mercury, a well-known British singer-songwriter and record producer. Sadly he passed away on November 24th, of 1991, but his messages still stay strong today with every person who supported Queen as a whole. This film beautifully reenacts his connections with people around him and what exactly made him who he was. here's a spoiler warning before we dive into this masterpiece of a film.
At the beginning of Bohemian Rhapsody, we meet Freddie Mercury walking up to the stage for his big performance with the other band members of Queen, preparing to play at the Live Aid concert, the biggest gig that they had ever played at. This is a huge foreshadow for the finale, but throughout the movie we go from a bar, to a recording studio, to a managers office, and all the way up to the grand finale. this film was fantastically directed by Bryan Singer, which will widely be known for this visual piece of work. Freddie Mercury is preformed by Rami Malek, who by far is the best actor to pull off the personality and idea of Freddie during his time of struggle.
According to IMDb, Bohemian Rhapsody made about $52,000,000 in the United States, which is a fair amount, but the movie is definitely one that you won't want to miss. This movie was absolutely amazing and left people in the audience speechless but wanting more. I, personally, wanted more at the end because the movie took me for such a ride that I felt that it should have continued but didn't get into the aftermath of Freddy visually, but it did leave a slideshow of the band members and their futures. This film has plenty of humor and will make you feel like you went through these events with the band. It really shows how much of an impact this music group meant to the fans, especially in one scene, when Freddie and the band look out among the millions of people in the stadium, which gave me chills because it really proved how far the band went in life by not giving up on their hopes and dreams.
Loading ...
The people in the film, both the intended singers and their actors who portrayed them, were very spot on and really showed who they were, even if you weren't alive back then. Freddie Mercury was played by Rami Malek, who was very hopeful and tried to help others on their path while supporting himself simultaneously. Brian May was portrayed by Gwylium Lee, who really projected his character in every way possible, who is one of my favorite characters in the movie just because of his hope and trust for the group and himself. Roger Taylor was played by Ben Hardy, who really pulls off his role showing us how much of an impact he had on the band as a whole. John Deacon was played by Joseph Mazzello, who really was the glue to the band when it started to fall apart, specifically when the band was writing "Another One Bites the Dust" in the recording studio.
This movie has a 60% on Rotten Tomatoes, according to their website. The Rotten Tomatoes rating, to me is a bit lower than it should be, though it's not the most humorous film, it is a true story and a real portrayal of their journey up to the end. I would give it a 75%-80% because it really pulls you into the story and makes you feel a million times closer to the band and it's entirety. Each moment is a important element to the story, which goes together to make one big picture. The film has a very intense story line which really brings the whole story into one big and realistic timeline, never missing a single detail which really draws you into seeing every members' perspective throughout their individual lives, around the time period starting at when the guitarist and drums were playing at a less well-known bar, to the grand finale.
As a whole, this movie is one that will make its mark throughout film history. It is inspirational in a way that you won't forget the path that the band took in order to get to where they are now. You will feel more supported and prideful of yourself. this film is very emotional knowing what the band has gone through, especially Freddie, when he finds out that he has AIDS, and when he starts coming out of the closet to his friends and family, having a relationship between Mary Austin then Jim Hutton, that he is bisexual which is a very hard thing to do, as though even today is hard to do. Freddie Mercury has lived a life with many struggles but slowly, over time, gets to the climax of his entire life at the Live AIDS concert. Freddie picks himself up so high but results in a very low conclusion.
If you are familiar with the band or not, it is a wild ride that you'll want to look further into after the movie ends. Biographical films like this, such as, Won't You Be My Neighbor, or A Star Was Born, are becoming very popular in the film industry, and this is definitely one to buy when it is released. This film was loved by many people in the public, and for good reasons too. This movie reaches out to those who are giving up and those who feel like there's nothing left for them in life, and exerts the idea that they did the exact same but kept that strong bond between each member, which led them up to passing on the torch of pride and success to their fans. This movie is one to remember and one to keep in mind, and you should definitely watch in theaters while it's out.
Leave a Comment
About the Contributor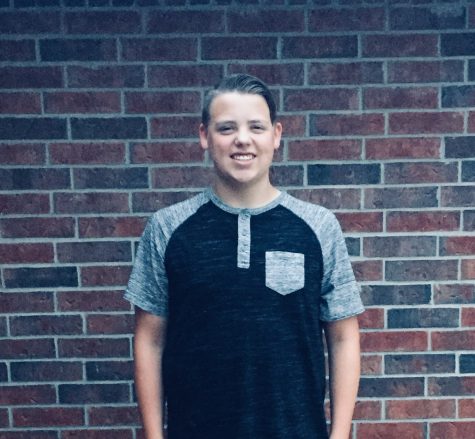 Tyler Bailey, Staff Writer
Tyler Bailey is a junior at Ada High School. He is beginning journalism as a first year writer for the AHS Cougar Call staff.

Besides writing, Bailey...