Lady Cougar Senior Night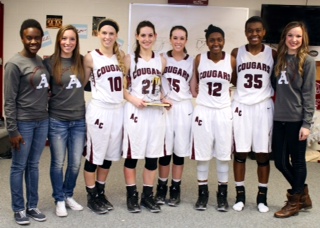 Monday night, February 17, the Lady Cougars took on #1 and undefeated 5A Shawnee Wolves on senior night. Though the Cougars were not victorious, they put up a fight until the very last second of the game. The Cougars  and the Wolves were tied with about three minutes left in the 3rd quarter. The score was back and forth throughout the entire game until the Cougs started to pull away in the middle of the 4th quarter. The score was 29-25. The Cougars made a series of errors throughout the game, but two key turnovers lead the Wolves to tie up the game. With 38 seconds left in the game, the Cougars had no other choice but to foul, so time would stop. After both free-throws were hit, Shawnee was in the lead with the score of 31-29. After yet another mistake, the Wolves had possession of the ball again. This lead the Cougars to foul Shawnee once more, leaving the score 33-29. The Cougars got the ball back with 1.5 seconds and could not get a shot off. With a final score of 33-29.
Though it was a tough loss, all the seniors were recognized for their hard work, before the boys game started.
#35 Aaliyah Blakley
#12 Markeisha Black
#15 Haley Dean
#21 Sami Jewett
#10 Menee Thomsen
Managers:
Jaycee Boydstun
Olivia Pruitt
Rosa N.
Leave a Comment