Cougar Call staff sweeps state competition
The Cougar Call staff attended the 103rd annual Oklahoma Scholastic Media (OSM) for Spring Media Monday state publications competition and walked out with All-Oklahoman and Ada High's first James F. Paschal Sweepstakes win.
Senior Maddie Manning served as editor-in-charge of the The Cougar Call this year.
"As the editor, I am proud that we won sweepstakes this year," said Manning who is in her second year on staff.
Staff members also competed for individual awards during the competition. There were two types of awards staff members could win. The first is the previously published category. In this category, students submitted pieces to monthly competition. Pieces earning a rank of excellent or superior qualified for the state competition. During the state competition, all qualifying state entries competed against each other for the rankings of 1st, 2nd, 3rd and honorable mention. The second competition type was the on deadline competition. For this competition, students received article prompts and had to two weeks to complete articles based on the prompts.
Second year senior staff member William Whelchel competed in the previously published competition and won first in online opinion column.
"It was a surprise getting first place, considering last year I got everything but a first place." Whelchel.
Other individual award winners include:
Jillian Brassfield- 1st in On Deadline Photo Gallery
William Whelchel- 1st in On Deadline Opinion Column
Monica Guajardo- 1st in On Deadline Online Page Design
Cheyene Howell- 1st in Online Photo Gallery
David Lewis- 1st Online Multimedia Page Design
Tyler Bailey- 1st Online Page Design
Delaney Beak- 1st Online Photo Gallery
Sophie Scroggins, Kaedin Daniels, Nyah Stephens – 1st On Deadline Audio/Video Feature
Canaan Miller, Addison McCourtney, Keely Machin, Jose Feezel- 1st On Deadline Promotional Radio/ Audio Spot
Yearbook Staff- 2nd Online Photo Gallery
Tyler Bailey- 2nd Online Multimedia Package
Maddie Manning- 2nd On Deadline Page Design
Trey Richardson, David Lewis, Jagger Pedigo, Avery Brown- 3rd Online Video Package
Tyler Bailey- 3rd Online Feature
Maddie Manning- 3rd Online Multimedia package, On Deadline Blog Entry
William Whelchel- HM Online Opinion Column
Monica Guajardo- HM Online News, Online Blog
Tyler Bailey- HM Online Feature
Other Awards:
Kaedin Daniels- Visionary Oklahoma Woman Award of Journalistic and Creative Excellence
The Visionary Oklahoma Women Award of Journalistic and Creative Excellence is a new category for student journalists that cover women's issues and/or empowerment of women through creative journalistic work.
Publication Awards:
Ada High School won Highest Honors, All- Oklahoman, James F. Paschal Sweepstakes Winner.
Leave a Comment
About the Writer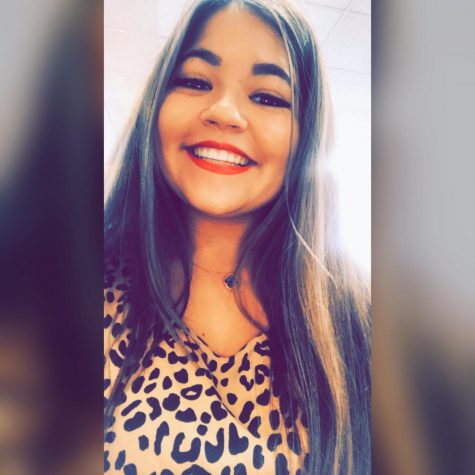 Monica Guajardo, Staff Writer
Monica Guajardo is a 17-year-old senior at Ada High School and is in her second year of being a part of the Cougar Call. She wants to be a Nurse Practitioner...