Veteran by JPEGMAFIA may be an early Hip-Hop AOTY
JPEGMAFIA, also going by the name Peggy, is an experimental rapper and hip-hop producer from Baltimore, Maryland who was first signed in 2016 to the label Deathbomb Arc and has five albums available primarily on his Bandcamp. His 2016 album, Black Ben Carson, named ironically after the only major presidential candidate who was black, was released in 2016 to mixed reception, some finding it to be too abrasive, while others praise the experimentation on display, but received enough media attention to bring him to relative popularity. His next major album Veteran released in January of 2018, to similar praise.
Peggy's sound is very loud, in your face, and abrasive, and Veteran is no exception. While the album is still strange by popular standards, compared to his previous work, there's obvious influence from more popular sounds, but chopped and screwed in a way that makes them stand out. The first track 1593 N. Calvert is a juxtaposition of very aggressive rapping over a dark, but calm trap influenced beat. The song Panic Emoji uses a washed out keyboard and vocal samples to create a drowsy vibe similar to the style popularized by Drake, and Macaulay Culkin is based around a clean guitar sample, but also features pitch-shifted whining vocal samples, rumbling reverb on the drums, and strange whistling sounds. Another track, Rainbow Six, uses an off-key vocal loop and deep bass to create a dangerous trap atmosphere.
While several tracks feature this pop influenced sound there's still a good amount of completely insane industrial songs, such as Baby I'm Bleeding, which lets an extremely obnoxious two note beat run for almost half the song, but still manages to be strangely infectious, getting even more catchy when Peggy's hostile flow cuts in. The track Real Nega uses fast belligerent drum loops, droning synth bass, and a sample from the beginning of  Ol' Dirty Bastard's Goin' Down to create a crazed, animalistic sound that dominates the track, and is one of the most out there sounds I've heard in a long time. Overall the beats produced by JPEGMAFIA on this album are varied, experimental, and ruthless when need be, providing great entertainment.
Peggy's lyrical content is just as out there as his music, full of irreverent and humorous lines designed to offend as many people as possible. The chorus to the song My Thoughts About Neogaf Dying, a title referencing the shutdown of an internet forum Neogaf in 2017 , is the repetition of the phrase "I don't care" over 8 times. In one song he calls himself the "Left-Wing Hades," but on another track he mockingly says "Word on the street you're Bill Maher." Clearly Peggy has no qualms with offending anyone and everyone.
In addition to this belligerent offensive side, Peggy also makes a bunch of obscure and strange references. The song Macaulay Culkin, named after the lead actor from the Home Alone movies, makes reference to it's namesake with the line "I got my hands on my face like Macaulay Culkin." Another song, Rainbow Six, gets its title from a series by Tom Clancy
Overall, Veteran is one of the most interesting and fresh albums this year so far in 2018, and has a good chance of being the album of the year for hip-hop. The flows are aggressive and virtuosic, the lyrics are clever and abrasive, and the beats are equal parts experimental and catchy. Although I highly recommend the album, be aware that a fair amount of the content is not school or work appropriate, and show the appropriate discretion.
Leave a Comment
About the Contributor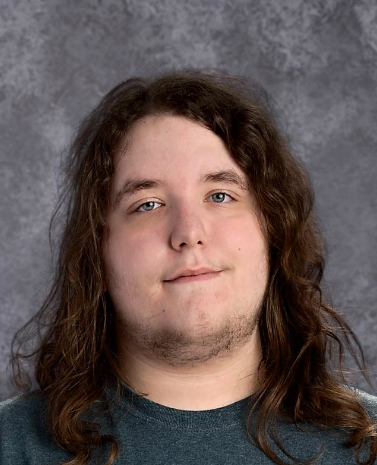 William Whelchel, Staff Writer
William Whelchel is a 17-year-old senior at Ada High School and a second year staff writer for the Cougar Call. Whelchel watches Anime and plays video...