Trio, The Next Instagram?
More stories from Ashley Worth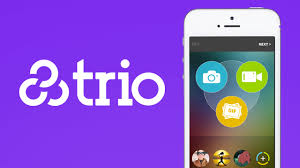 On March 4th, Meograph Inc launched a new app called Trio. The app allows users to "be creative and funny way faster than anywhere else!" The photo-video app consists of remixing clips, pictures, and even music from friends social media, etc. (Instagram, Vine, Giphy, Itunes, movie clips) to make personalized mash ups. Similar to Pinterest, the app can show linked attribution to the original owners of the media used.
Some examples of the entertainment available to have and create with Trio include: Sports Highlights with a voice-over commentary, bad lip-readings of movies and vines, stylish slideshows of the latest fashion, and even studying! From recording Instructions to a mix of pictures and assignments and formulas, Trio can become a study necessity as well as an easy way to share notes. Trio is ideal for everyone, even students.
With Trio, the possibilities are endless. Anything can be shared with friends from emotions and actions, to TV and sports. Trio is a more interactive type of  social media that puts the world of popular media at the user's fingertips.  Better yet, Trio is free to download.
Although the application has just recently been released, the reviews are raving, with an overall rating of 5/5 stars on itunes. Here is what people are saying:
"You get to unleash your inner creative by combining GIFs, Vines, Instagram, etc. to make super awesome media mash ups." – Marzbarz15
"Best Social Mash up App, EVER."- TeddyKGB1
"I like that I can mix together stuff from other places and be funny on top of it. I'm not a huge Vine creator because I don't have a lot of ideas for funny short skits but Trio makes it super easy for me to be funny, which makes me feel good." – Mishaley
You can download the app for free at https://itunes.apple.com/us/app/trio-media-mashups-your-friends/id937065963?mt=8 Compatibility: Requires iOS 7.0 or later. Compatible with iPhone, iPad, and iPod touch. This app is optimized for iPhone 5.
Leave a Comment