An interview with Paul B. Smith
Paul B. Smith, Republican Canidate for the District Attorney, recently sat down with the Ada Cougar Call for an interview.
Q: How long have you been an attorney?
A: I, Paul B. Smith have been practicing law since February of 1986 when I became a licensed legal intern. I was admitted to the bar after the Summer Bar Exam that same year. So I have been practicing law for over 32, almost 33 years.
Q: What made you choose to run for District Attorney?
A: I, Paul B. Smith, am seeking another term As district attorney and I am delighted to re-introduce myself to the voters in district come probl as district attorney and I am delighted to re-introduce myself to the voters and district comprising  of Ponotoc, Seminole and Hughes Counties.  For nearly 30 years, I have been fortunate to have served  The citizens of this district as an assistant D.A., First A.D.A and as now District Attorney. I became D.A in January 2017 when my predecessor retired.  My experience as a trial attorney and prosecutor spans 32 plus years.  I consider myself a devoted family man. Joy and I have been married 34 years.  We are proud parents of three children, all who grew up in the district. Our oldest child, Joshua, is 30 years old, and a youth minister at first Baptist Church in  our oldest child, Joshua, is 30 years old, and a youth minister at First Baptist Church in Antlers. He is married to Stephanie McGhee Smith, a school teacher who played basketball at OU. They have blessed us with three beautiful grandchildren, Dempsey, who is 6 years old, JoJo, who is 3, Archie, who is almost 2. Our daughter, Janna, is 28 and works for a film production company in OKC, making creative videos shown on ESPN, at Falls Creek, OKC Thunder games, and many notable venues. Our youngest, Jaxon, is a Freshman High- School student, multi-sport athlete and Academic Bowl champion.
During my career, my work was blessed  to be recognized for advocacy  for children and the elderly, winning the State's Child Abuse Prevention Advocate of the year award in 1977, the first year it was  ever awarded, presented by Miss Oklahoma. In 2002,  my work in seeking protection for our seniors received the Elder Abuse Prevention Advocate award, which gave me the opportunity to  give a presentation at the Judicial Conference on successful case presentations. In 2006 and 2007,  I work with youth and support for the Oklahoma National Guard Thunderbird Youth Academy won two commendations from the Department of the Army and National Guard. In 2010, the Adjutant General of the Oklahoma National Guard presented to me, the Patriot Award,  recognizing my work in developing young people. In 2015, the American Humane Society awarded the U.S. Law Enforcemnt Award to me for courtroom advocacy work on a massive animal abuse case.  During this time, I was honored to be chosen by the Oklahoma District Attorney's Association to represent Oklahoma at the National Center for Prosecution Ethics working to develop national standards for ethics and professionalism for prosecutors nationwide. This summer my record and work in homicide cases gained National Recognition when I recieved the 2018 National Award for Outstanding Advocacy in Complex Homicide cases from the American Association of Government Attourneys in Capital Litigation and focused  The presentation on recent Jury Trial of the Clark couple for murdering their adopted child, Colton Clark. This was a "no-body" murder case which means that Colton's remains weren't never located. I am one of only a handful of prosecutors across the Nation to have ever successfully tried a no-body murder case to conviction. Only twelve have ever been tried since Statehood in Oklahoma.
I have  carried a substantial case load  of high-profile murder cases and all 3 counties and recently won one of the biggest child abuse murder cases in State history in the cold "No Body" case of Colton Clark against his adoptive parents, natural uncle and aunt, Rex and Rebecca Clark. That case had state wide  attention, as well as National and International following.  Sadly, Colton went missing into 2006 and was never seen again.  His aunt and uncle were convicted in October 2017 and receive life without parole plus 4 other life imprisonment sentences from the jury or heard the case an Ada, Oklahoma after a change of venue had been granted. I am now preparing to try a 2017  murder case in Ada in State v Born,  for the terrible and tragic murder of Brenda Carter; and last month, I want a murder conviction for the senseless and execution style murder of Summer Gokey and Joseph Bounds behind the Seminole Walmart in 2015 in a State v Grayson.  I am involved in the recent murder cases in Huges County including state v Key for the double  murder of his father and grandmother; in the three defendant murder case for the murder of Mr. Merriman  and the near-death of the lady at the checkout counter at the Holdenville Pruett's Grocery store   I am also involved in the Hughes county unsolved near double homicide of Johnny Taylor  and another yet unnamed person that survived a shooting attacked by the masked men. I am helping my ADA's to try the Seminole County Murder cases State v Knight and State v Armstrong and State v Panozke seeking the death penalty.  Also, we recently charged a vehicular  murder one charge in State v Gentry  where it is alleged that the defendant used a vehicle to purposefully ram on coming traffic. In addition, I have had some of the weighty cases from history thrust upon me and post conviction legal battles in State v Joe Johnson for the 1977 murder of Woody Streater; the famous Ward and Fontenot case from the 80's pending in Federal District Court.  I am running to keep my job as D.A. because the work is not completed especially for the families of victims who's death's and victimizations happen during my tenture and for whom I would like to obtain some measure of justice.  Does include the unsolved murder case of Brett Wolfe in Seminole County  which I think about and consult with the OSBI on frequently, the cases I mentioned pending above and many more. Many of the cases could be affected by an Indian Country Jurisdiction case I am  participating in which will be argued at the United States Supreme Court on November 27th in the case of Murphy v, Royal aka Murphy v Carpenter.  The victims families and those are looking to me to carry the torch of justice into the courtroom and prevail for them and I so desire to be their champion for justice as I have been able to achieve in so many cases in my 32 year career. I believe that I am unquestionably far more qualified to serve as District Attourney than the challenger.
Q: If re-elected what new  perspectives do you want to bring to office?
A: I have been bringing new perspectives into the community for a while.  I pioneered some of the Justice Reform measures that are not being spotted about out of there by justice reformers including my opponent, but I am the only candidate for D.A That has successfully confounded or help start any of these programs. I cofounded one of the states first rural of drug courts by the same time that Judge Landrith Was forming ours here in Pontotoc County. I have advocated for specialist courts including Mental Health Court, and an effective truancy prevention and intervention component of our Juvenile Delinquent Court.  I helped start the idea of Veterans Court in our district by helping to develop a workable Veterans Service Court in our district operating effectively without any additional funding source under the existing Drug Court umbrella. So I am a proponent of sensible Justice Reform. But what make these programs succeed are good people running them with good services providers, along with the incentive of rewards and punishments including a sentence of incarceration if the offenders do not take advantage of the programs and meaningfully  participate to overcome their addictive and destructive behaviors.  I would now like us to expand our veterans Court services by joining the Veterans Council in Ada in conjunction with the Veterans Rally Point envisioned by Valori Slaughter and other which seek out a more effective mentoring program and perhaps some additional grant funding for Veteran Services that we do not have.
Q: Who is running against you?
A: My opponent filed against me on the last day of the filing period. He is from Weleetka and has been practicing with Rob Neal, an Ada  attorney since coming to Ada in 2010 to the best of my belief.  Josh is a nice young man but doesn't have as much experience in the courtroom and is never prosecuted a case which is essential for this big job.  Neither has he ever successfully started any justice reform initiatives that I have. We have been told that he has prompted to run by a campaign of the Oklahoma ACLU who actively  thought opponents to run against D.A.'s  cross the state; and some younger members of the Pontotoc County criminal defense lawyers who are unhappy with the tough plea negotiations by prosecutors in many cases.
Q: Is this a political partisan race?
A: Yes, I am the Republican candidate who represents conservative family values but I was chosen by the governor because I have pioneer so many smart reforms  yes, I am the Republican candidate who represents conservative family values but I was chosen by the governor because I have pioneer so many smart reforms, Within the criminal justice system and because my extensive and successful trial work which is been recognized across the state and is now on a national level. My opponent is the Democratic candidate who finally claimed in our last debate to having tried only three criminal cases in his career. Any mistake about that record came from his failure to state his courtroom work and by information from his colleagues. We apologize at the debate at ECU  about getting his trial record incorrect but it was based on all the limited information we could gather about it.
Q: Are there any statements by your opponent  that you'd like to clear up?
A: Yes, I believe my opponent has misrepresented the interpretation of results of DNA testing in the Perry Lott Case and miss-characterized  The history of the office do you hard and work on the prosecutors, didn't tell the whole story in his latest Op-Ed  stating that we do not have any Veterans Courts operating within our district, and in his door knocker literature he policy claims that prosecutors in Ada have lost 75%  of all of the cases tried in the last 8 years. In the Perry Lott case, no such compelling evidence came to light to set aside the conviction, only plausible exclamations of skin so contamination and remote theories of another "mystery man"  perpetrator that are not supported by credible evidence. I have explained in the Op-Ed to the Ada News how the current Veteran's Service court works and why the program suggested by my opponent does not work well. Finally, my opponent chooses to force voters to look at fine print of his door-knocker advertising before the real truth is revealed in how he defines wins and losses.
My opponent also tries to leave the impression that I only practice in Seminole County. On the contrary, I work in all 3 prosecution offices in the district; one in each county; and work with the two child support enforcement offices in Ada and Wewoka. I spend a majority of my time in the Pontotoc County office in Ada because that is where the highest demand for my time exists. I recently tried one major murder case in Pontotoc County and successfully defended Pontotoc County in a civil suit 2 weeks ago resulting in a jury verdict that saved the county hundreds of thousands of dollars, avoided the 1.4 million in damages that the plaintiff was seeking. This is why I have the support of the county commissioners in Pontotoc County because of the quality of service they receive in county business from this D.A. The commissioners in other counties would tell you the same thing.
In my decades as a prosecutor I've seen the evil perpetrated against innocent men, women and children in our communities. I've vowed to uphold the constitutional right of all citizens while seeking justice for these victims. The opposition's plan, like most of their platform and proposed policies seem to focus exclusively on the offenders and I believe many time ignores the voices of the victims in the process. My campaign and my track record have not and never will ignore the victims voices. The victims voice is in the criminal justice system should be heard from the time the law enforcement arrives on the scene to the first setting of bail and to conclusion when decisions as to ultimate outcomes and punishment for the offenders are made. During his eight year career, my opponent has never made the tough decisions I have been required to make. He's never handled the tough cases that I have handled and he often speaks claiming knowledge about subjects that he has not been involved in with his limited experience.
*All suspects named herein are presumed innocent until proven guilty in a court of law beyond a reasonable doubt*
View Comments (1)
About the Writer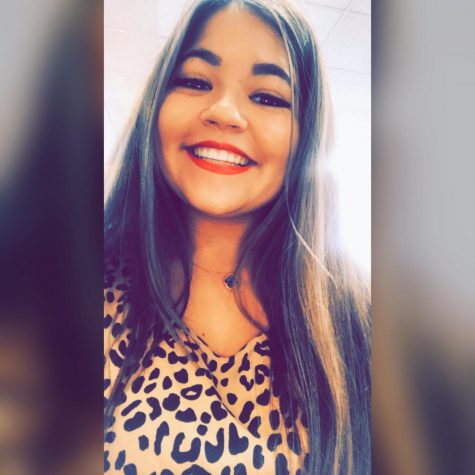 Monica Guajardo, Staff Writer
Monica Guajardo is a 17-year-old senior at Ada High School and is in her second year of being a part of the Cougar Call. She wants to be a Nurse Practitioner...