Ada High takes on first Ethics Bowl
Maddie Bacon, (Senior) Nathan Fountain (Junior) and Summer Wilbanks (Junior) were three contestants who represented the Ada High Cougars in the Ethics Bowl Regional competition. It was Oklahoma's second year to hold a Regional competition for Ethics Bowl, where the winners would advance to the national competition.
A competition started by the Seed Foundation, the Ethics Bowl allows students from every school to come together and debate specific topics. Seed stands for Student Education and Ethics Development, and it's a private foundation that helps students understand their full potential.
What is the Ethics Bowl?
It's a competition where students from different schools meet and discuss the merits and the ethical values behind certain cases or circumstances that are happening in today's society. A team will argue their reasoning for siding with a situation, and then support it by citing why ethically or morally.
The meet was held at the University of Oklahoma's campus in the Sarkeys Energy Center.
In their first attempt at an Ethics Bowl competition, Ada team members were a little unsure of what they would be facing.
"Going in to it, we hadn't done it before, so we didn't really know what to expect. The only real thing we saw was a video of the National Championship, so we thought it would be really professional," Fountain said.
The Cougars won their first round against Dove Academy. For the second round, they faced off against the Oklahoma School of Math and Science, losing by one judge, 2-1. In the final round, Ada argued against the previous year's preliminary award winner, Norman North High School. The Cougars, again, lost by one judge and five points.
Tony Scott an Ada High Alumni, was a judge in the Oklahoma Regional High School Ethics Bowl. Scott, who fully disclosed his connection to Ada High prior to the beginning of the competition, took the time to email AHS faculty members expressing his opinion of how well the team represented both the school and community.
The AHS Ethics Bowl team will return to competition next year.
Leave a Comment
About the Contributor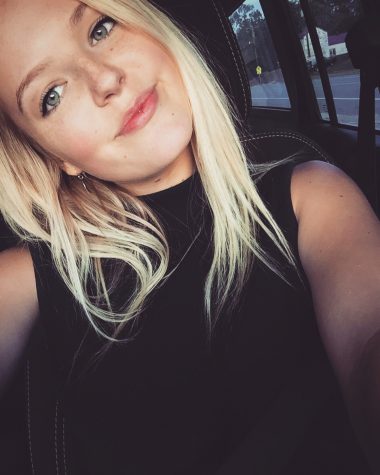 Malli Pingleton, Student Life Writer
Malli Pingleton is a junior at Ada High School, she is a second year AHS Cougar Call staff member, and frequently writes feature articles, opinion pieces,...