Lead actors top list
September 28, 2017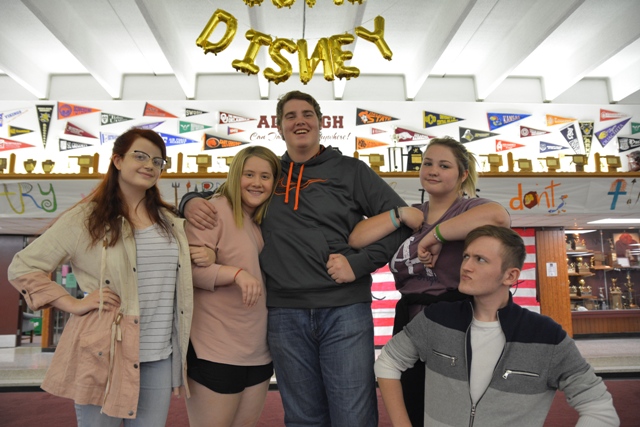 Photo: Emily Rhyne
Save the date, Ada High! Shrek The Musical is coming to a swamp near you this fall (Nov. 16-18).
The Ada High performing arts, cast, core and administration aspire to produce another show stopper. The musical has been cast and rehearsals are just beginning. The students are all in agreement, anxious and thrilled to be preparing and performing Shrek for the public.
The Tony-award winning show hit Broadway in 2013 telling the tale of an ogre, Shrek, who discovers his swamp has been infested with fairytale creatures. The name "Shrek" itself is German for "fright" or "terror," which doesn't entirely seem to be the case in this story. After a deal is made with Lord Farquaad, Shrek must endure a perilous, self discovering journey in order to regain his home. Who would've thought a donkey and a princess could give a stubborn ogre such a new perspective.
The movie itself is intended to poke fun at typical "Disney fairytales," as is the musical; subtle references from classic Broadway shows such as The Lion King and Wicked can be found all throughout the performance.
Performing Arts Director, Merrie Palmer is one of many ready to get this show on the road.
"There are 61 cast members, some playing multiple roles, who are all doing a phenomenal job. It's going great," said Palmer.
Shrek will be played by senior Mitchell Galbreaith. This is his first year of performing arts at the high school and his first lead role.
"I've got a pretty decent Scottish accent already from practicing growing up. I'm trying to portray the character as well as the Broadway show did," said Galbreaith. "As far as talent goes, I think Ada High has one of the most talented casts it's ever seen."
Human Fiona will be played by junior Maggie Hood while Ogre Fiona will be sophomore Annie Dunlap. The pair have been working together to perfect their roles, costumes, and acting. As a whole, the cast is confident in their ability to work well together and are prepared to give it their all.
Dunlap said, "I think Shrek is perfectly cast. Palmer looked at every single aspect of the show from singing, acting, and dancing, and could not have done a better job."
The performing arts are taking a new direction with this year's musical as opposed to previous productions. "Shrek" breaks away from your run of the mill fairy-tale where past performances such as "The Little Mermaid" and "The Addams Family" are both seen in a standard Broadway light.
"Everybody loves Shrek, it's not your typical musical," said Hood.
Other leads such as Ben Muse (Lord Farquaad) and Brittnee McComas (Donkey) have continually expressed their excitement for the show.
"I am so stoked, words cannot describe," said McComas. "I hope everyone comes to see it."
Muse hopes to not fall "short" of his role, Lord Farquaad, and is ready to take it on.  Rehearsals are said to be helping greatly for every character individually in order to put on a great performance altogether.
Muse said, "The few rehearsals that we've had have gone really well. Shrek has its own feel to it and will appeal to all ages. With the cast and commitment we have, it will be a great show."
The musical can be found on Netflix, for those who want a sneak peak of what's in store for Ada High.
Mark your calendars, the wait is almost "ogre"!