Photo: Sara Ellis
Paul Harris
Q: Where you from?
A: I've lived in Ada my entire life, and I went to school here. Now I'm back to teach. 
Q: What made you want to become a teacher?
A: I kind of have two answers for this. My first one is obviously I love English. I think English is really important because I think it's important for all of us to learn to be good communicators and to learn how to reflect your own thoughts and beliefs. The second reason is whenever I was going to school here, I had excellent teachers who cared for me and they really wanted me to be the best person I could be. I had a really great relationship with all of my teachers. I wanted to be able to be a role model to someone or to be able to lead someone because having that kind of relationship is really special.
Q:What are your hobbies?
A: My hobbies? I have a lot. So, obviously because I'm an English teacher, I do like to read, but I haven't been reading a whole lot lately because when you're an English teacher, all you do in college is read. I'm really into watching movies, watching films. Obviously I have my copies of Paddington 1 and 2 on my shelf here. I have the app letterbox. I log every film that I watch, talk about it and review it. So film is a really big hobby for me. I'm a big gamer. I like to play video games. I have game nights and sibling movie nights. That's something that's important to me. It's something I like to do a lot.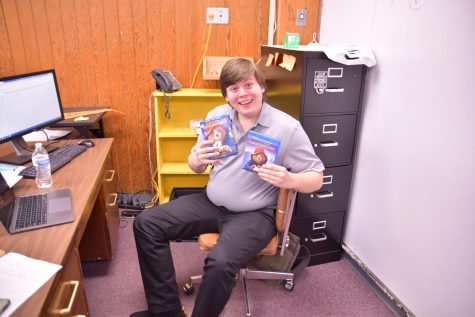 Q: If you could be any fruit what would you be and why?
A: Probably like a mango or something because everyone likes mangos.
Q: If you weren't a teacher, what would you be doing?
A: Okay, It kind of goes back to what I said my hobbies were. If I wasn't a teacher, I would probably want to be a filmmaker, honestly, because I've watched so many movies. Like I really love talking about how a movie is shot and how its lit, what the script is like, and I feel like if I had my own chance to make a movie, I would have a lot of ideas of what I would want to do.
Q: How are things going so far this year?
A: Things have been going really well, I'll say that much. I will also say it has been incredibly stressful. How I'll put it is, every single day I'm here, I learn something new about teaching that I didn't expect. I learn about a challenge I didn't expect to have, and showing up to school each day is still a little scary. It's not easy being a first year teacher. It's definitely hard. You would be surprised the amount of things first year teachers don't know. There's only so much you learn when you're student teaching. So that has been the hardest thing about this year so far. I'm still learning along with you guys.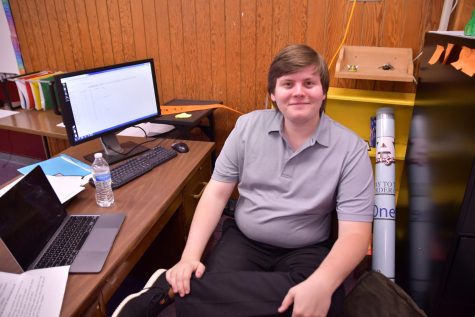 Q: What is your goal for this year?
A: I want to figure out what it means to be a really good teacher. I learned about that a lot at ECU's education program. We talked a lot about our educational philosophy and about how to interact with students. Even though I have this job now, I still don't really know what it means to be a great teacher. So one of my biggest goals is trying to figure out how to be the best teacher I can be.
Q: If you could travel to any era in time, which would you choose, and why?
A: I don't know if I would travel that far back. I would probably go to the 1990s or the early 2000s to just see how much has changed in the past 20 years. Like the growth of computers and films. we lived completely differently just 20 years ago. So just being there for that era of time and seeing how our culture has changed so rapidly from then to now.
Q: What activities were you involved in in high school? What were you like in high school?
A: There are three big ones I can list. I was in band. I was a percussionist for the Ada High band. I played the xylophone and the drums. I also played the marimba, the marimba is my favorite. I was involved in performing arts. My junior year we did The Little Mermaid, and I was Scuttle the Seagull, my best role. I played in Shrek. I was a pig, that was really awesome. I was also in a class called Teach Oklahoma here, and that's when I realized that I could be a teacher.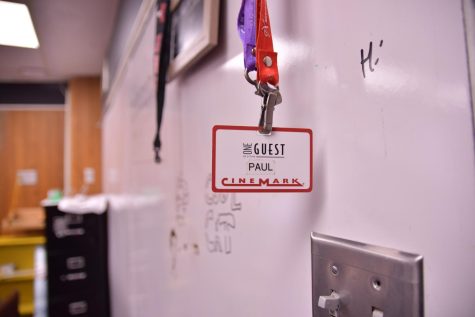 The Cougar Call intends for this area to be used to foster healthy, thought-provoking discussion. Comments are expected to adhere to our standards and to be respectful and constructive. As such, we do not permit the use of profanity, foul language, personal attacks, or the use of language that might be interpreted as libelous. Comments are reviewed and must be approved by a moderator to ensure that they meet these standards. The Cougar Call does not allow anonymous comments, and The Cougar Call requires a valid email address. The email address will not be displayed but will be used to confirm your comments.