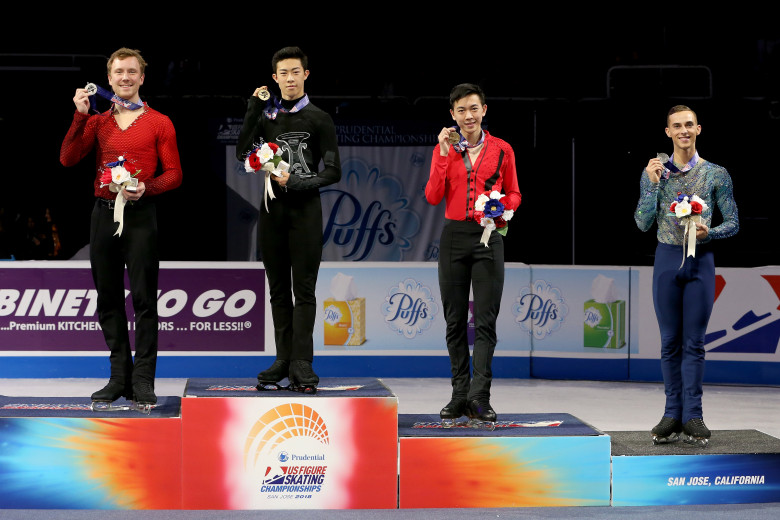 Photo: Matthew Stockman/Getty Images)
Making history at the PyeongChang Olympics
February 28, 2018
NBC Sports, Youtube
The Olympics, whether summer or winter, is a time when millions of people from across the world come together to witness the talent, dedication and sport of the athletes representing their home countries. This year the Olympics were held in PyeongChang, South Korea. The stakes are high, and as always, millions are watching the athletes, awaiting the next big turn of events that will unfold to be remembered by many.
So far, some of the most memorable performances that have made history, set records and have amazed crowds was the performances of Mirai Nagasu, couple Tessa Virtue and Scott Moir and Nathan Chen during their figure skating routines.
NBC Sports, Youtube
Mirair was the most notable one when she became the first American Woman in history to successfully perform the triple-axle move during her skating routine. This is a very complicated move that many don't dare to try. As reported by CNN, skaters have to reach a certain amount of momentum to be held up in the air and must land perfectly while holding their weight as they land on their thin blades. Others, such as Tonya Harding, have tried this move in Olympic competition but have not had success.
NBC Sports, Youtube
Another memorable performance of the 2018 Olympics was that of Canadian figure skating pair Tessa Virtue and Scott Moir. They now hold the record for the highest short dance category score ever recorded and have the highest score overall. According to NBC, the pair are now the most "decorated figure skaters in Olympic history" with the record of five gold medals each. They are the only figure skaters in history to achieve this. They have been a duo for 20 years and announced at PyeongChang that their gold medal performance would be their last performance. 
Nathan Chen's free skate is also one that left people talking. Despite ending up in fifth place, Chen set a new record, a performance NBC Sports labeled historic. He became the first figure skater to land five quads during his performance. He attempted but failed to land a sixth. This means during five different jumps, Chen rotated his body a full four revolutions.