Part 4: Diamond is Unbreakable
February 27, 2018
As always, this part begins with a timeskip and location change, though not as large as the rest, skipping only 10 years ahead, into 1999, and the small Japanese town of Morioh. Josuke Higashikata (the suke can also be read as jo) is the protagonist this time, and is the illegitimate child of Joseph Joestar and Tomoko Higashikata. Josuke is a high school freshman at the time of the story's beginning, and lives with his mother and grandfather on his mother's side. Josuke is amiable and friendly in most situations, and usually acts out of genuine kindness and care for others. Josuke shows no difficulty in befriending people, even managing to become friends with a few of his enemies as the story goes on. This kindness goes beyond the average person, as when he is told of his relation to the Joestars he apologizes for being a "bastard child", instead of being angry that his father was a married man who abandoned his mother, and relinquishes any claim of inheritance. He is agreeable to the point of occasionally being passive about being picked on or antagonized by his peers.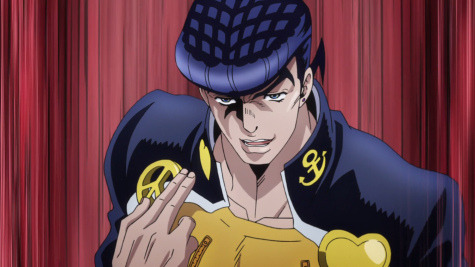 Josuke does have a few things that will set him off, however. First and foremost is any threat towards his town or loved ones. Josuke is incredibly loyal, and is willing to go to great lengths to protect the things he cares about. Less important, but even more maddening for him is comments about his rather bizarre hairstyle. Any comments about his hair will cause him to become belligerent, and prepare for a completely unnecessary brawl.
Josuke's main motivation throughout the part is to protect Morioh from any supernatural threats, but this does not keep him from goofing off and prioritizing time with his friends as well, being a teenager after all. Josuke is very open with his emotions, and is not embarrassed to be goofy in public. Despite Josuke's laid back personality, he takes an active role in solving the many supernatural mysteries facing Morioh, using his Stand, Crazy Diamond, a reference to the Pink Floyd song "Shine on You Crazy Diamond", that can repair things that have been broken, and having comparable physical attributes to Jotaro's Star Platinum, as well as being assisted by other Stand users.
The first Stand user Josuke meets is the returning Jotaro Kujo, who has aged considerably, and shows a great deal of maturity compared to his first appearance, no longer acting like a delinquent. During the gap between parts, Jotaro went to college to become a marine biologist, and has continued fighting Stands during this time. Koichi Hirose is a meek friend of Josuke's who begins to get more assertive after he develops a Stand, Echoes, which can write a word on a surface, causing it to be heard at various volumes by the target, over and over. Okuyasu Nijimura is an impulsive and aggressive teenager, who has a heart of gold despite this, and wields The Hand,  a Stand that can erase matter from a space it attacks, or replaces it with nearby objects. Rohan Kishibe, a few years older than the high schoolers in the cast, is a successful comic artist, who is shown to be very narcissistic and unapproachable, and as a result doesn't have many friends. Rohan's Stand, Heavens Door, named after the Bob Dylan song "Knockin' on Heaven's Door", can write commands on someone, usually "cannot attack Rohan Kishibe", forcing them to obey that command.
The nature of the story is fundamentally different than the parts so far; instead of following the protagonists on an adventure, the entirety of part 4 takes place in Morioh, and there are a lot more slice of life moments. The monster of the week format still stands, but the tone is a lot more relaxed outside of battle. Since the scale of part 4 is so much smaller, the villain of course is less of an all powerful god figure like Dio or the Pillar Men, instead being a serial killer that is made much more dangerous by possessing a Stand.
Yoshikage Kira is a very neurotic and psychotic man, who in his own words "Just wants a peaceful life" but also has killing in his nature. Kira is an obsessive man, who compulsively avoids standing out, to the point of never placing better than 3rd in any competition. When his goal of a peaceful life seems assured, Kira is upbeat and self-assured, however when he feels threatened he will become unstable and filled with indignation. Although he presents this unremarkable front to others, Yoshikage Kira is a deeply freakish person, who fanatically pursues women with "beautiful hands" as targets for his murders. Kira tries to solve most problems indirectly, but will stop at nothing to maintain his way of life. Kira is enjoyable to watch, his disgusting behaviour makes it very satisfying to see him get taken down.
Kira's Stand, named after the Queen song Killer Queen, perfectly pairs with his personality. Killer Queen has the power to plant bombs on anyone or anything, that when detonated, completely erases any evidence of the victim's death. Killer Queen also has a secondary bomb, Sheer Heart Attack, named after another Queen song, which is heat seeking, and will continue seeking out and exploding heat sources until it reaches it's target. This power makes direct encounters with Kira rare, but makes him a consistently looming threat, incredibly dangerous from any distance.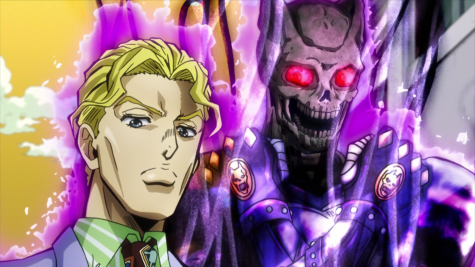 Part 4 focuses on the hunt to find and stop Kira, as well as being a fun and entertaining watch in the interceding times. The biggest appeal of part 4 over other parts is the laid-back tone, and fun slice of life.