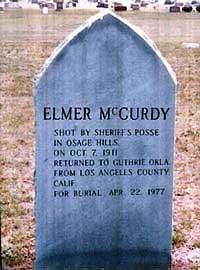 The Sideshow Mummy
This series explores the possibility of Oklahoma's best urban legends, from Bigfoot to the Oklahoma Octopus, or even poor Elmer McCurdy.
Elmer McCurdy was a clumsy, disease ridden man who brought -and left- nothing to the table. He was a clumsy alcoholic and an alleged two bit criminal, or so the group that gunned him down in 1911 thought.  The posse that killed him near the Oklahoma-Kansas line believed he was in a gang that had just robbed a nearby train.  However, this aforementioned gang was incredibly inept, having robbed the wrong train.  Elmer McCurdy's forgettable life reached a very untimely end, but it's not his life -or even his death- that puts him in this series…it's what happened after.
After nobody claimed McCurdy's body, he was placed in a mortuary in Pawhuska, Oklahoma. Soon after his embalming, visitors could view him for 5¢ a gander. Five years later, two men claiming to be McCurdy's brothers claimed the body, only to put him in the freakshow attraction at serveral hundred travelling carnivals, as this lasted for about fifty years.
He eventually wound up covered in glow in the dark paint and hung by the neck at an amusement park in Long Beach, California.  There, he was simply reffered to as "The Dummy."  It had been so long that nobody recognized or remembered the shriveled and shrunk body as a person. People had forgotten him.
While filming an episode of "The Six Million Dollar Man" at the amusement park, a worker attempted to move McCurdy and his arm fell off, revealing the bones inside.  The LA county coroner autopsied the mysterious dead man, whose story made headlines everywhere.  However, there was one question on everyone's lips: "Who is this man?"
Eventually, it was proven that the body belonged to one Elmer McCurdy, and on April 22, 1977, he was finally given a proper burial in Guthrie's Summit View Cemetery next to Bill Doolin, another outlaw. The cemetary refers to these two graves as "Boot Hill."