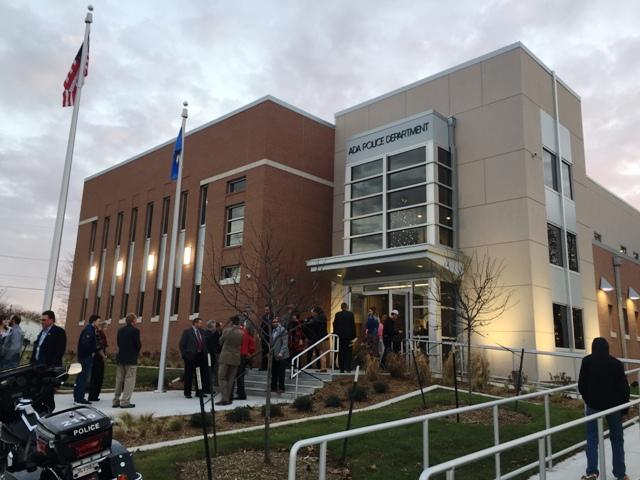 Photo: Tyler Mitchell
Ada cuts ribbon on new police station
January 31, 2017
The City of Ada recently cut a bright red ribbon for the new police station. Part of the ribbon cutting ceremony included a tour of the new facility showcasing the interior design.
The new police station is a part of an 7.8 million dollar project, as reported in The Ada News. This project was funded with "Penny for Our City," Ada's one cent sales tax initiative.
The former police station was limited for space. However, the new station offers more rooms and updates supplies. A year in the making, the new station is a welcomed home for Ada city officers, like Mike Meeks.
"I'm glad that we got the new building. The whole [old] building was like one big room, with one table in the middle where they did their evidence processing and lunch breaks," said Meeks.
The new facility offers much more than a single room, boasting multiple offices, a records room, a clerk desk and more. With multiple floors, there is even an elevator, which opens at desk where officers like Mike Lynch work.
Lynch, conducting tours during the grand opening, showed amenities such as fitness and locker rooms. According to Lynch there are plans to continue to add additional work out equipment for the officers.
Evidence is no longer relegated to a table in the middle of the room.  A new evidence room allows for ample space to "bag and tag" evidence and lockers for evidence storage. A DUI room allows for the administration of breathalyzer tests to determine blood alcohol content.

A garage offers room to not only park police cruisers and bikes, but also to process larger pieces of evidence.
"If they have evidence like a car, they can pull it in and look for fingerprints and  look for hidden pockets," Lynch said.
Other amenities include an interrogation room and fully equipped kitchen. A new fire station is also in the works as part of the same sales tax revenue.