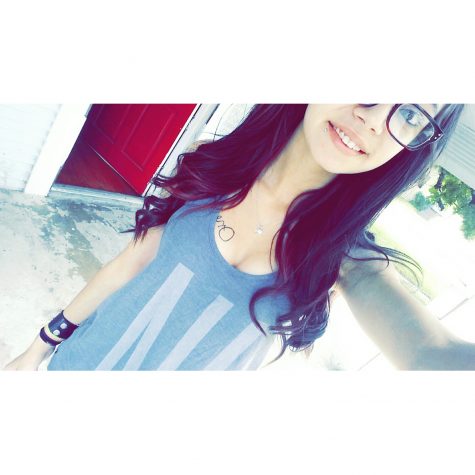 Tiyanna Melendez is a Senior Editor and reporter for The Cougar Call. In 2016 she achieved her goal of winning a first place award in state competitions. In addition, she also earned a second place award. Throughout her whole life, she has loved writing as much as she loves animals. She has a niece (Lily) and a nephew (Bentley), four sisters (Krista, Anita, Alicia, and Samurai) and a brother (Noa).
Melendez has been in journalism for three years and has pushed herself to achieve every goal she has had. Being a senior editor she feels it is her "duty" to set an example for the newcomers and show them how wonderful writing can be.
Previously, she was a waitress at Boom-a-rang Diner and JD's Cafe. She is currently working at Goodwill. After school she trains horses at her dad's ranch and spends time with her duck.
@t.i.y.a.n.n.a
Tiyanna Melendez, Senior Editor
Sep 27, 2016
Sep 15, 2016

Student of the Month

(Story)

Sep 06, 2016

Dear Sophomore, from a Senior

(Media)

May 03, 2016
Mar 22, 2016

Itching for interviews

(Story)

Mar 22, 2016

Dying to meet deadlines

(Story/Media)

Mar 22, 2016

Capturing the moments at Ada High

(Story)

Feb 22, 2016

Out loud and poetry proud

(Media)

Feb 22, 2016

In Loving Memory of Victor Aguinaga

(Story)

Feb 17, 2016

How Sweet Was the Sugar Bowl?

(Story/Media)

Feb 05, 2016

Food Known In Ada

(Story)

Feb 04, 2016

Ada High helps Children's Miracle Foundation in a smashing way

(Story)

Jan 29, 2016

15 Things You Don't Know About Me

(Story)

Jan 25, 2016

15 Things You Don't Know About Me

(Story)

Jan 08, 2016

Student of the Month

(Story)

Dec 15, 2015

Top Christmas gifts

(Story)

Nov 24, 2015

A trip down memory lane

(Story)

Oct 29, 2015

History Of Halloween

(Story)

Sep 29, 2015

Victor-y For Win-Win Week

(Story)

Sep 24, 2015

Let the 'Chain Reaction' Begin

(Story/Media)

Sep 08, 2015

Fair comes to town

(Story)

Sep 01, 2015

Parking lot safety

(Story)

Apr 22, 2015

20th Anniversary of Oklahoma City Bombing

(Story)

Mar 12, 2015

Student of The Month; Kate Pottebaum

(Story)

Mar 02, 2015
Feb 13, 2015

Teacher's Special Someone

(Story)

Feb 10, 2015

Student of the Month; Spencer Kilby

(Story)

Feb 10, 2015

Ada High Wrestling Hosts Sr. Night, Competes in Mid-West Conference Tournament

(Story)

Jan 27, 2015

Making Money With Econ Students

(Story)

Jan 23, 2015

Let's Blue Out Diabetes

(Story)

Jan 14, 2015

Couganns Kick Their Way To Another State Title

(Story)

Jan 14, 2015

Student of The Month: Paige Rhoads

(Story)

Dec 17, 2014

Christmas Memories

(Story)

Dec 10, 2014

Hanging Of the Greens

(Story)

Nov 24, 2014

Eating Through Time

(Story)

Nov 19, 2014

Ballin' With the Best

(Story)

Nov 11, 2014

Color Run Funds Prom

(Story)

Nov 05, 2014

Student of The Month

(Story)

Nov 05, 2014
Oct 27, 2014
Oct 07, 2014

Student Of The Month

(Story)

Oct 06, 2014

NHS Seeks Exemplary Students

(Story)

Oct 06, 2014

Tumbling to State

(Story)

Sep 16, 2014
Sep 09, 2014

A "Plainview" To Victory

(Story)

Sep 02, 2014

Ada High Under New Management

(Story)