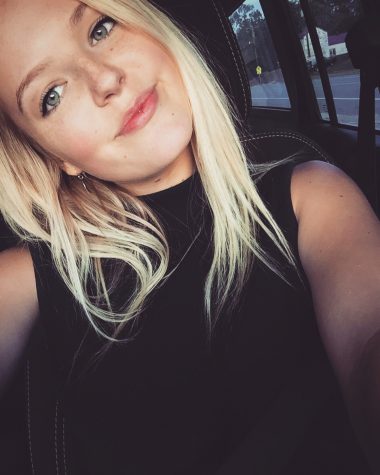 Malli Pingleton is a junior at Ada High School, she is a second year AHS Cougar Call staff member, and frequently writes feature articles, opinion pieces, and produces many videos for student entertainment.
In her free time, Malli loves to binge watch Netflix, volunteer at the local animal shelter, and read books. She is a firm believer in good friends, and great food.
Malli received first place in a "Previous Published Multimedia Package," and second place in the "On-Deadline Blog" at the 2016 OSM State Competition.
Malli Pingleton, Student Life Writer
Apr 10, 2017

Check out The Cougar Call

(Story)

Apr 07, 2017

Top 5 Netflix television series for teens

(Story)

Feb 28, 2017

Princesses will reign over Ada

(Story)

Feb 11, 2017

Ada High takes on first Ethics Bowl

(Story)

Jan 25, 2017

Couples of Ada High: Volume 4

(Story)

Jan 17, 2017

Summer vs. Winter

(Story)

Jan 13, 2017

Couples of Ada High – Volume 3

(Story)

Jan 11, 2017
Sep 28, 2016
Jan 04, 2017

Wrestling the weight

(Story)

Nov 18, 2016

P.A.W.S. struggles with high intake, low donations

(Story/Media)

Nov 03, 2016

Cougar Crosswalk: politicians vs. musicians

(Story)

Oct 24, 2016

Top 10 childhood Halloween movies

(Story)

Oct 14, 2016

Ada High hosts district academic meet

(Story/Media)

Oct 10, 2016

Movie Review – Miss Peregrine's Home For Peculiar Children

(Story)

Oct 06, 2016

Couples of Ada High, Volume 2

(Story)

Sep 28, 2016

Couples of Ada High

(Story)

Sep 14, 2016

What They Don't Tell You About Junior Year

(Story)

Sep 11, 2016

FCCLA makes Ada High comeback

(Story/Media)

Apr 11, 2016

Weston wins prestigious award

(Story)

Mar 22, 2016

Perks of a teenage journalist

(Story)

Mar 22, 2016

Interviewing in journalism

(Story)

Mar 22, 2016

Exposure for journalism

(Story)

Mar 04, 2016

Chemicals in your body

(Story)

Mar 02, 2016

Movie Review: How to Lose a Guy in 10 Days

(Story)

Jan 22, 2016

Transition from home school to public school

(Story/Media)

Nov 24, 2015

Thanksgiving traditions

(Story)

Nov 11, 2015
Aug 31, 2015