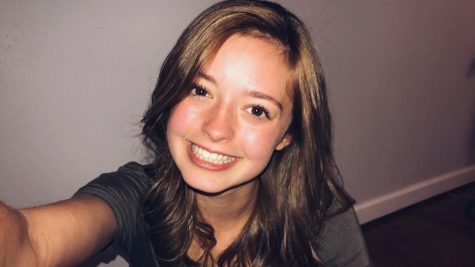 Ada High junior, Kaelie Miller is a second-year staff writer for
The Cougar Call
. She also serves as the staff Social Media Manager.
Miller, who has won two
Oklahoma Scholastic Media
state championships, is looking forward to her second competitive season in journalism.
Miller said, "I am super pumped for this year. I want to write more articles that qualify for competition and hopefully win some more."
Miller has also been a member of the Ada High cheer squad for three years. She has two dogs, Gus and Champion. Miller is also a talented artist and writer in her free time, and also enjoys being around her best friends.
Kaelie Miller, Social Media Manager/Staff Writer
Mar 29, 2018

London, England: A digital gallery

(Media)

Feb 16, 2018

Ada cheer comes home with NCA Nationals awards

(Story)

Feb 01, 2018

An open letter to the faculty of Ada High School

(Story)

Jan 11, 2018

Twin Talk: Tyde and Tovan Thomsen

(Story)

Dec 14, 2017

Twin Talk: Hayley and Ashley Gregg

(Story)

Nov 09, 2017

A glimpse into the life of an Ada High Cheerleader

(Story)

Sep 13, 2017

New squad, new coach, new year

(Story)

Sep 07, 2017

Ada High cheer wins 2018 bid to nationals

(Story)

Apr 07, 2017

'Can't buy me love'

(Story)

Apr 07, 2017

Five stars for 'Beauty and the Beast'

(Story)

Mar 21, 2017

Rubix cubes consume Ada High students

(Story)

Jan 23, 2017

Ada High's New Year's resolutions

(Story)

Jan 13, 2017

Overcoming incredible odds: Marleigh McClure

(Story)

Nov 04, 2016

Candidates the media doesn't mention

(Story)

Oct 31, 2016

Not So Happy Halloween

(Story)

Oct 11, 2016

Cougar Call Staff Head to OSU for High School Journalism Day

(Story)

Sep 29, 2016
Aug 30, 2016

New coaches take on Ada High cheer squad

(Story)