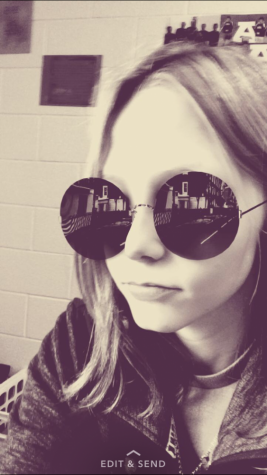 Cheyene Howell, a junior at
Ada High School
, is in her second year of journalism. As a photo editor of
The Cougar Call
, Howell plans to focus primarily on photography. Howell placed first at state competition for online video package, photo gallery and feature photo.
When not working on her next assignment, she enjoys relaxing at home with her three siblings and her favorite food: the original mac and cheese. However, life is not all about couch surfing and cheesy goodness for Howell, she has a passion for adventure and the great outdoors, as evidenced by her hobbies: playing basketball and climbing mountains. She also has a desire to learn the Russian language and travel to Moscow.
Howell plans to attend UCO and one day become a homicide detective.
Cheyene Howell, Photo Editor
Apr 23, 2019

Cougar Crosswalk 4-23-18

(Story/Media)

Apr 12, 2019

AHS Special Olympians take to the track

(Story)

Mar 13, 2019

Ada High hosts blood drive

(Story/Media)

Feb 22, 2019

Lady Cougars crush Panthers in rivalry game

(Story)

Jan 14, 2019
Dec 07, 2018
Nov 28, 2018
Nov 01, 2018
Oct 04, 2018

Cougars wage war with paint

(Story)

Oct 04, 2018

Cougars on fire at homecoming bonfire

(Story)

Oct 01, 2018
Aug 20, 2018

Ada High welcomes new teachers

(Story)

Sep 19, 2018
Sep 06, 2018
Aug 20, 2018
Mar 29, 2018

A look into Ada High leadership

(Story)

Mar 07, 2018

Humans of Ada

(Story/Media)

Feb 28, 2018

Shaun White brings home the gold

(Story)

Feb 28, 2018
Feb 08, 2018

Despite team loss, Emarthle has career first

(Story)

Jan 23, 2018

Humans of Ada

(Story/Media)

Jan 09, 2018
Dec 15, 2017
Dec 11, 2017

Lady Cougar basketball back in action

(Story)

Nov 27, 2017

Humans Of Ada

(Story/Media)

Nov 03, 2017
Oct 10, 2017

Humans of Ada

(Story/Media)

Oct 05, 2017

Humans of Ada

(Story/Media)

Sep 05, 2017

Ada High experiences the solar eclipse

(Story)