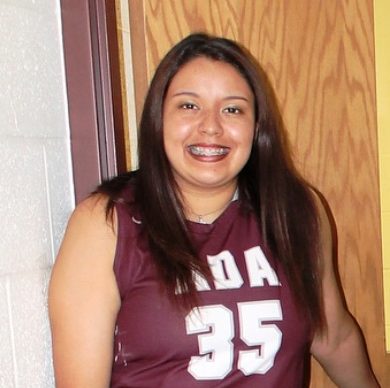 Tyler mitchell
The Ada Lady Cougars went head-to-head with the Shawnee Wolves' Tuesday night. Despite a disappointing loss (47-25), senior Mikalya Emarthle celebrated a career first by making her first three point shot.
Emarthle counts this shot as one of the things she did well during the game.
Emarthle said, "what I did good during the game was make my first 3 point basket in my high school career.
Emarthle began playing basketball with Upward Bound in 2013 and was recently named to the All-tournament team during the Newcastle tournament.
"I wanted to play basketball because it ran in my family and because I am very talented in that sport," Emarthle said
During Tuesday's game, Emarthle, despite rolling her ankle, was able to continue playing strong defense for the Lady Cougars.
"I haven't really had very good defense all year but tonight I showed that I do have pretty good defense," said Emarthle.
During the game, Emarthle rolled her ankle but was able to continue in the game. Head coach Christie Jennings was pleaded with Emarthle performance.
Jennings said, "I thought meme (Emarthle) came out played really tough and really tried to rebound and do things we needed to do to be successful in that game."