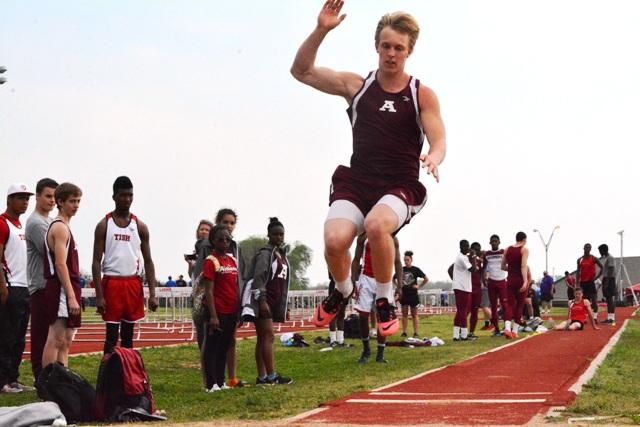 As the sun's beating rays came down in sizzling waves, Ada was out making the best of the weather.  The Ada Cougars traveled all the way to Durant to compete against in the track meet.  To say the least, many of the Ada Cougars placed in multiple events.  With both the girls and the boys placing, the season seems to be on a great start.
For the girls 100m dash, Brittany Prince earned 5th place. Brittany also placed 3rd place in long jump alongside Krysten Wallace who got 5th.  In the 400m dash, McKenah Jones won 2nd place with a time of 62.03 sec with Payton Taylor following right behind her for 3rd with 65 sec flat.  Later that day Payton won 2nd in high jump, jumping at 5'2″. To finish at the day for the Lady Cougars, the 1600m relay team won 4th place. The relay team consists Taylor Porter, Payton Taylor, Kalynn Daniels, McKenah Jones.
The boys did as great a job as the Lady Cougars at the track meet.  Jake Martinez won 1st place beating Shiloh Windsor by a hair Jake coming in at 11.75 sec and Shiloh at 11.97.  Jake won 2nd place in the 200m dash as well.  Giovanni Gutierrez placed in two events: 3rd place in the 300m hurdles and 5th in the 800m dash.  The 400m relay team (Jake Martinez, Dillon King, Reed Townsend, Shiloh Windsor)won 2nd place with the time of 45.00.  The 800m relay team (Jake Martinez, Dillon King, Reed Townsend, Shiloh Windsor) got 4th place.
There was no team points recorded at the track meet so the girls and boys had no team points.  The next track meet was April 10.  Continue to cheer on the Cougars as the season goes on.