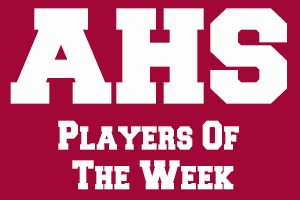 Chelsi Gould, Jennifer Dye, and Alexis Walker

September 16, 2013

Filed under Features, News, Showcase, Sports, Student Life
  Male- Shiloh Windsor plays tailback for the Ada Cougars. The 6'3" Sophomore scored an 80 yard touchdown in last week's opening game against the Ardmore Tigers. When asked how he felt about the touchdown, Shiloh replied, " I looked at the long run I just completed! Filled with joy I c...
Michelle Williams and Isabel Gutierrez

September 9, 2013

Filed under Sports
What is cross country? According to Coach Daniels "Crosscountry is a part of the track program but you dont run on a track, theres no sprinting, it's all long distance and all terrain." Cross country requires a lot of dedication, patience, and stamina. Cross country at Ada High consists of running the par...