Vehicle Pursuit Ends in Front of My House
Hang on for a minute...we're trying to find some more stories you might like.
On August 17, 2016, a shooting happened in front of my house.
When I found out about it, I was in school. I called my mom to talk about a different family matter and learned of the shooting. My mom was crying on the phone, scared for her life when the incident happened. Knowing that my mom was scared, I knew I couldn't just stay at school, worried if she was okay.
Luckily, I asked Jeff Maloy, our principal, to take me home as soon as possible. He did, with the help of Julie Lawson, Ada High librarian. I was grateful that they took me home. When I got home, I saw the entire crime scene right in front of my house. Knowing my mom was home at the time of the shooting scared me.
I ran inside, and I hugged my mom as tightly as I could, while she cried on my shoulder.
"It was horrible; it's something you never want to experience," my mom said. We sat down on the couch, and I kept hugging her.
"When I saw them putting up the yellow tape, I started getting scared. I never witnessed anything like that," she said.
My mom was watching cops but she  had to use the bathroom, so she went but when she came out and heard the shots. The sirens of the cop cars and the ambulance but she noticed they were a lot closer and louder , but she knew she didn't have the tv turned up. That's when one of the officers came and knocked hard on the door and asked that if she had kids or anyone to make them not leave the house and lock the doors. She agreed and shut the door. That's when she heard the officers yelling for the guy to exit the vehicle but he didn't. Then she saw him getting tased by the cops.
"I heard when they took him out of the truck and he screamed in pain, saying he couldn't breathe."
One female officer that handcuffed him had blood all over her hands and she asked my mom if she could come inside and wash her hands and my mom let her. It made me sad cause she couldn't stop crying and shaking, but once I comforted her she calmed down a bit and I looked out and there was probably around 20 cops out there. When I got home the suspect (James) was already sent to Mercy hospital.
My emotions were super mixed up. When I called my mom and she started telling me what happened, I got really scared. However, when I got home I was happy that nothing bad happened to her and she wasn't in the incident. I want to personally thank Maloy and Lawson for taking me home and excusing my absence from school. They're the best people I could have in my life, and I also want to thank the Ada PD for protecting and keeping us safe.

About the Contributor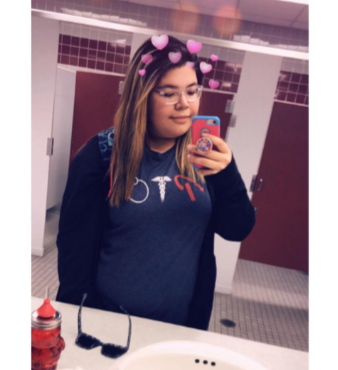 Jacky Lopez, Senior Staff Writer
Jacky Lopez is a Senior Staff Writer for The AHS Cougar Call . On April 17, 2017 at the OSM competition, Lopez  placed First for her Division III-Multimedia...